Prince William Reflects On All The Things Princess Diana Has Missed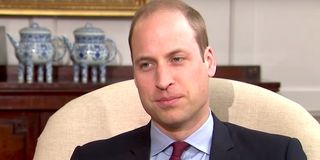 The twentieth anniversary of the tragic death of Princess Diana is almost upon us. Now her eldest son, Prince William, is opening up about the pain he still feels, in particular now that he is half of one of the world's most beloved married couples and has two adorable children. In an interview, the 34-year-old Duke of Cambridge spoke candidly, saying,
Prince William undoubtedly misses his mom every day. Based on this sorrowful sentiment, which comes from a cover interview with British GQ, he longs not only for what was but also what might have been. The loss of a parent is never easy, but the pain must have been extraordinary for Prince William, and evidently, he is still grappling with the weight of it today.
Prince William was but fifteen when Princess Diana died in a tragic car accident in the Pont de l'Alma tunnel in Paris, France, on Saturday, August 30, 1997. The story captured newspaper headlines for ages, but by her death, Princess Diana had for years been the focus of highly publicized stories about the Royal family's problems, such as her marriage to and divorce from Prince Charles, a plot that director and producer Ryan Murphy reportedly plans to chronicle in the second season of Feud.
In adulthood, Prince William has had his share of headline-making moments. However, the stories about him have been positive, for the most part. In 2011, he married Kate Middleton in a lavish ceremony watched on televisions around the world. In the subsequent few years, Prince William and Princess Catherine welcomed two adorable kids, Prince George and Princess Charlotte.
Now the family makes headlines for happily participating in family celebrations, such as Pippa Middleton's recent wedding. Sure, there have been negative stories, but they have often come from outside the family. For example, Prince William recently gave a court testimony against paparazzi who took pictures of him and his wife on vacation. In fact, in the statement, Prince William cited his mother's death and indicated the photographers had made him feel like he was reliving that harrowing event.
Still, in recent times, Prince William has made incredible strides not only to overcome the trauma he endured in the wake of Princess Diana's death but also to help others who experience similar situations. For a year, he and the Duchess of Cambridge worked with Prince Harry on a social campaign called Heads Together, an effort that hopes to change stigmas about mental health and asking for help when therapy is needed. During the campaign, Prince Harry expressed he, too, had bottled up the pain he felt over his mother's death. He said it took him a long time to realize he needed help to cope with decades-old emotions.
Moreover, in one Heads Together campaign stop, Kate Middleton shared personal thoughts about how she sometimes feels lonely in motherhood, despite the constant barrage of people in her life. In other words, being a member of the Royal family does not make someone emotionless or perfect. Princess Diana certainly seemed to know that statement to be true.
It is hard to believe it has nearly been twenty years since Princess Diana's passing, but it is heartening to see how Prince William has managed. Yes, Prince William is correct his children will never know their grandmother in person, but surely learning about her legacy will be powerful.
Your Daily Blend of Entertainment News
Thank you for signing up to CinemaBlend. You will receive a verification email shortly.
There was a problem. Please refresh the page and try again.