Kate Walsh Was Diagnosed With A Brain Tumor 2 Years Ago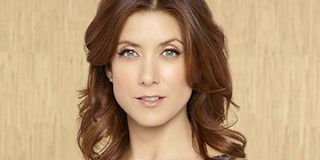 For years, Kate Walsh played a TV physician, Dr. Addison Montgomery, on Grey's Anatomy and its six-season spinoff, Private Practice. Two years ago, however, Walsh found herself in the real-life role of the patient when a terrifying diagnosis put her life in the hands of real-life doctors. The 49-year-old actress learned she had a brain tumor. Then Walsh immediately had it removed and spent months recovering. Now Walsh is doing better, and she is just now opening up about the frightening experience and how it has changed her life.
From the sounds of it, the diagnosis and surgery happened in the blink of an eye. It all started when Kate Walsh's pilates instructor first pointed out a symptom of the problem. Apparently, the actress was dipping to her right side. Next, Walsh noticed herself accidentally veering to the right while she was driving. Then a third revealing symptom was Walsh's level of extreme exhaustion. She was unable to stay awake throughout the day even if she drank coffee. Finally, Kate Walsh realized she needed medical help when she began having trouble speaking and forming complete sentences. In fact, by the time Walsh got to the doctor's office, she was so foggy that she had her assistant jot down notes about what the doctor was saying because she couldn't focus or understand.
As a Hollywood actress, Kate Walsh's M.O. has been go, go, go for years, but when she found out about the brain tumor, her world stopped. She listened to her doctors and followed directions closely, and she pushed through the fear that she had by focusing on getting well. Walsh told Cosmopolitan,
Kate Walsh said that even her experience as a fictional doctor on TV did not prepare her for the nerve-wracking experience of being in the hospital with a brain tumor. After the surgery and the recovery, Walsh took personal time off to focus on rebuilding her health. During that time, Walsh began to feel like her life was taking new meaning. She wanted to spend meaningful time with family and friends, and she wanted to work on projects that were not only fun but also made "a cultural contribution."
So, when she was well, she hit the ground running and pumped out a few projects, including Girls Trip, 13 Reasons Why, and #REALITYHIGH. At the same time, Kate Walsh said she knew she needed to refocus on her health, even if, by chance, her work was competing for her time.
Now that Kate Walsh is doing better, she has a message for other people who might be in a similar situation. She urges people to go see a doctor. (Kate Walsh would say that, wouldn't she? But in all seriousness, she indicated that people should not be afraid to approach doctors and ask questions. Furthermore, Walsh said we should treat going to the doctor as a preventative measure akin to going to the gym.
It's fantastic that Kate Walsh is feeling better. Here's hoping her health continues to improve and her message reaches many people.
Your Daily Blend of Entertainment News