Jada Pinkett Smith Says She Was Dealing Drugs When She Met Tupac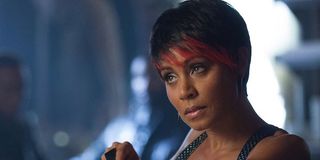 Jada Pinkett Smith recently shed light on details about her involvement with the late rapper Tupac Shakur, and in doing so, she admitted to a significant mistake she made as a young person in the 1990s. In a recent interview, the 45-year-old actress revealed that she was a drug dealer around the time she and Shakur were close. She said,
In the interview on Sirius XM's Sway in the Morning, Jada Pinkett Smith talked about how the world seems to perceive her relationship with Tupac Shakur and what people get wrong. The Gotham star said the relationship ran much deeper than a cute girl and cool guy being together. Instead, Pinkett Smith and Shakur's connection was about survival and "keeping each other down." Pinkett Smith described the point at which her path seemed to intersect with Shakur's as the two stars began going in opposite directions. She said,
In June, Jada Pinkett Smith criticized All Eyez On Me, the 2017 biopic of Tupac Shakur's life. She described the film as a "deeply hurtful" attempt at re-imagining her relationship with the rapper. Now Pinkett Smith has found herself pondering how to reopen the old subject matter.
Before talking about Tupac Shakur in the Sway interview, Jada Pinkett Smith talked about her new movie, Girls Trip, which costars Queen Latifah and Regina Hall. Pinkett Smith said she likes to go on big vacations with her girlfriends, but when Sway asked whether she and her friends get rowdy when they travel, Pinkett Smith indicated she is not a party-hearty person and likes to get to bed early. She said that she used to have wild times but left that world 23 years ago. So, Pinkett Smith must have exited the drug-dealing trap queen lifestyle long before the new millennium.
The timeline adds up. Tupac Shakur was murdered in a drive-by shooting in Las Vegas, Nevada, nearly 21 years ago on September 13, 1996. If Jada Pinkett Smith's "wild times" happened 23 years ago, they would have occurred around the time of her friendship with Shakur in the days she was dealing. Here's hoping we get that book sooner than later.