How Taylor Swift Reacted To Cardi B Kicking Her Off #1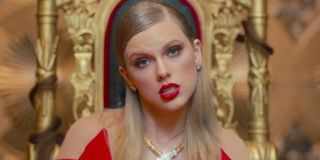 Cardi B is having the best week ever. The rapper's summer anthem "Bodak Yellow" recently pushed pop singer Taylor Swift's "Look What You Made Me Do" out of the number one slot on the music charts. And apparently Swift had the kindest response to the change. Cardi B hopped on social media this week to thank Swift for sending her flowers to congratulate her on reaching the top spot. Take a look:
What a wonderful gesture. Cardi B shared the picture of the flowers from Taylor Swift with her 10.4 million fans on Instagram. After Cardi B first found out that her track had overtaken Swift's as the top song on the chart, she celebrated at Atlantic Records' headquarters in New York City. She later said it was "a lovely surprise" because it was such "a close race" to reach the number one spot. She also said,
Then Cardi B sang a little bit of the song that had given Taylor Swift the top song for the three weeks before "Bodak Yellow" took over. Of course, Swift's "Look What You Made Me Do" is a relatively fierce track in the Swift catalog, and it received some criticism for fueling the feud between her and Kim Kardashian and Kanye West. However, it appears Swift and Cardi B have no "Bad Blood," which is great news for the 24-year-old rapper, who is just getting started in the music industry.
Taylor Swift has caught flack in recent times from people who criticize her for, among other things, having a brand of faux feminism while simultaneously writing lyrics that seem to bash women in the entertainment industry. However, she also has reached out to support budding artists over the years, too. For example, she gave support to Lorde back when she was first kicking off her career with "Royals." So, it is great to see her extending a welcoming hand to Cardi B in a similar way.
Cardi B's "Bodak Yellow" reaching number one on the Billboard Hot 100 was a major accomplishment for several reasons besides the fact it piqued Taylor Swift's interest. It turns out Cardi B faced a steep uphill battle to get where she is today. Cardi B hails from the Bronx, where she joined a gang, worked as a cashier, and became a stripper for a while to make money to escape an abusive relationship.
Last year at this time, Cardi B essentially was an unknown artist, but now she is the first solo female rapper to capture the number one position since Lauryn Hill did so with "Doo-Wop (That Thing)" nearly 20 years ago. Furthermore, Cardi B is the first person of Dominican heritage to accomplish the feat, and she is the first Latina to do so since Shakira in 2006. Talk about achievements. Plus, Cardi B managed to do it all while staying on Taylor Swift's good side. Maybe these two should get a collaboration in the works.
Your Daily Blend of Entertainment News
Thank you for signing up to CinemaBlend. You will receive a verification email shortly.
There was a problem. Please refresh the page and try again.