The Epic April Fools' Prank Game Of Thrones' Kit Harington Played On Rose Leslie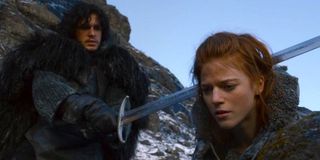 Kit Harington and Rose Leslie of Game of Thrones fame moved in together this year. Apparently, sharing the same space gave Harington an opportunity to do what many people in successful relationships do after dating for years. In this instance, we're not talking about Harington proposing, though he recently did. Instead, before the engagement, Harington took the relationship to the next level with a hilarious and horrifying April Fools' Day prank. He recently stopped by The Jonathan Ross Show and shared details. Take a look:
Kit Harington told The Jonathan Ross Show audience that he grew up in a household with people who loved April Fools' Day, but Rose Leslie did not. Thus, the actress had no idea anything out of the ordinary might happen on April 1. Therefore, when he pulled a prank on her that included a fake severed head left in the refrigerator, it was no wonder she was freaked out. Then again, that severed head was ultra-realistic, so Leslie's dramatic response seems like a reaction many people might have. (Jonathan Ross thought so, too.)
From the sounds of it, Rose Leslie nearly had a heart attack when she opened the fridge. In fact, Kit Harington's underwhelming response after she freaked out--he meekly said "April fools"-- made it sound like he immediately realized his over-the-top prank was, well, over the top. He said Leslie warned him never to pull another April Fools' prank on her again.
Of course, anyone with a desire to terrify their spouse could pop over to the local costume shop or party favor store and pick up a fake severed head to hide around the house. However, what makes this story extra rich is the fact Kit Harington and Rose Leslie play Jon Snow And Ygritte on Game of Thrones, a show famous for its body count and severed heads. It is not clear whether Harington got help from the prop developers at GOT, but apparently, Harington bragged about his successful April Fools' Day while on the set of his new project Gunpowder with Liv Tyler.
This prank shows how great Kit Harington and Rose Leslie are in their life away from TV. Sure, we enjoy lovey-dovey reports about how they fell in love while filming Game of Thrones with Iceland as the romantic backdrop. But when a person pulls off a prank like this one on his or her partner, and then they get engaged, you can bet it's the real deal.
So, for anybody who loves a good April Fools' Day prank, you now have a great example to run with for next year, and you have months to perfect the execution (no pun intended). Perhaps you, like Kit Harington, could craft a replica of your head and pop it in the fridge for an unsuspecting family member to find. Better yet, box it up and leave it for your loved one to open like in Se7en. ("What's in the box?") In fact, you don't even have to wait until April. Remember, any prank you do in October could be chalked up to Halloween. Just make sure your relationship is stable so that your loved one will stick with you afterward like Rose Leslie.
Your Daily Blend of Entertainment News