Jimmy Fallon's Family Vacation Photo Is Hilarious, Check It Out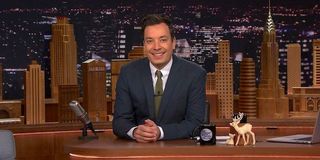 Jimmy Fallon recently took a fun vacation with his wife, Nancy Juvonen, and their two young children, Frances and Winnie. From the looks of it, the Tonight Show host and his wife had a great time, but their little ones, who should have had the most fun, seemed more than ready to go home by the end of the day. Fallon later hopped on social media to upload a hilarious photo of the family outing. Take a look here:
Oh, no! The kids look miserable even though the day was supposed to be a blast with Mom and Dad. Jimmy Fallon and Nancy Juvonen, on the other hand, appear to be having fun smiling for the camera despite the screaming, upset toddlers in their arms. This picture is laugh-out-loud funny. It's one the SNL alum can put in the vault for now and then bring back years from now when Frances and Winnie are old enough to appreciate its humor.
Jimmy Fallon last took his family on a group vacation and posted about it on social earlier this year in March when he, his wife and their kids went on a ski trip in Utah. In that Instagram update, Frances and Winnie did not seem over the moon about the fact their parents wanted to stop for a photo. However, they at least powered through the moment without falling apart like in the recent picture from the aquarium. Check out the ski trip picture here:
Jimmy Fallon and Nancy Juvonen also bring Frances and Winnie along for other special moments. For example, when the funnyman opened the Tonight Show's new ride this year, he and his wife took their daughters to the unveiling. Similarly, Fallon shows off his love for his children on social media with posts about the fun family traditions they are starting. For instance, he posted a picture of himself, Juvonen and the girls sipping a chilled hot chocolate during the holidays a couple of years ago. Furthermore, Everything Is Mama, Fallon's new picture book for children, went to number one on the New York Times Books list in its specific category, so clearly he is a guy who loves being a dad.
You can tell Jimmy Fallon and Nancy Juvonen adore their kiddos. In fact, Fallon recently gushed to Today about how much he digs fatherhood. He explained that it was difficult for him and his wife to have children, and they tried for five years before turning to surrogacy to have their children. He explained:
So the adventure to the aquarium hopefully was a fun one on the whole, even though it ended in exhaustion and tears for the little ladies. We love seeing Jimmy Fallon post about his family, so here's hoping we get similar updates soon.
Your Daily Blend of Entertainment News
Your Daily Blend of Entertainment News
Thank you for signing up to CinemaBlend. You will receive a verification email shortly.
There was a problem. Please refresh the page and try again.