Does Jimmy Fallon Have A Drinking Problem? Here's What He Says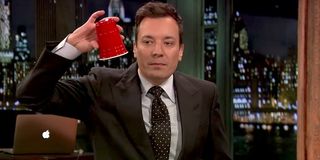 Funny man Jimmy Fallon is not afraid to admit he partakes in alcohol sometimes. In fact, the 42-year-old late night host often plays drinking games with celebrity guests on The Tonight Show. However, Fallon now is clarifying unfunny claims his life is unmanageable because of his drinking habits. Although there was speculation that the late night talk show host had trouble with alcohol when he injured himself a few times in recent years, he has now spoken out, noting,
The comment appears on the heels of reports Fallon has be slipping in the ratings compared to his now-greatest late night contender, Stephen Colbert. In the interview with The New York Times, Fallon responds to other critical, uncomfortable topics before addressing rumors he might have a drinking problem. Taking Jimmy Fallon at his word, we can count him among other talk-show hosts, such as Ellen DeGeneres, who have reached the top of their games but happen to enjoy drinking... at least on occasion. At the same time, there have been whispers that Fallon, like DeGeneres, has had accidents and sustained injuries because he was inebriated. An accident while drinking does not constitute a drinking problem; however, it could be a cause for concern if a pattern arises.
As it turns out, news of Jimmy Fallon's hard-partying ways began simmering years ago when he endured several injuries. In 2015, Fallon stumbled in his house and almost lost a finger as a result. Months later, he allegedly tried to open a bottle of gel with his teeth and chipped one. The media questioned if Fallon had been drunk during those incidents. Then Fallon fell on the street while holding a bottle of Jägermeister, and he sliced open his hand. Most recently, people in New York City reported seeing the former Saturday Night Live actor visiting bars night after night in January. These rumors have never been substantiated, and they've been wholly denied by NBC and now Fallon himself.
It's not uncommon for the media to question the behaviors of celebrities. Just ask Scott Disick of Keeping Up with the Kardashians. But if Jimmy Fallon were to have a drinking problem, he would not be the first celebrity in history to like taking substances. In recent times, former NBA star Lamar Odom and Mike Sorrentino of Jersey Shore fame both discussed their road to recovery. Miley Cyrus and Woody Harrelson both talked about recognizing the need to quit their vices. In fact, Brad Pitt even mentioned how his life is looking up since he quit drinking.
It will be interesting to see if the accusations and his addressing them do anything to change The Tonight Show. Will he continue to play drinking games, or has that ship sailed? Time will tell.
Your Daily Blend of Entertainment News