8 Celebrities Who Used Surrogates For Their Pregnancies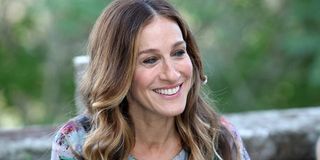 Reports say Kim Kardashian and Kanye West have hired a surrogate to carry their third child. Kardashian and West have a huge platform to showcase the process of surrogacy, but plenty of celebrities before them have expanded their family with help from a surrogate. In fact, these days, more and more stars are opening up about the details of their surrogacy journey. Here is information on some of the major celebrities who have spoken out about their surrogacy success stories.
Lucy Liu
In 2015, Lucy Liu took to Twitter to reveal the birth of her son, Rockwell Lloyd Liu. She posted this adorable photo of herself with her son:
In interviews, the Elementary actress confirmed reports a gestational surrogate carried her son. Lucy Liu told CBS News she never realized there was any stigma attached to surrogacy until after she revealed how her son was born and friends told her not to listen to any criticism. She explained,
Lucy Liu decided to work with Tylenol on the campaign #HowWeFamily. The campaign encourages societal acceptance of the many types of families in the world. In support of the campaign, Lucy Liu said,
Lucy Liu is but one of many other celebrities opting for surrogacy these days. Let's see some more.
Sarah Jessica Parker and Matthew Broderick
Sarah Jessica Parker had not yet wrapped on Sex and the City 2 when she and her movie star husband, Matthew Broderick, announced their two additions to the family, twins Tabbitha Hodge and Marion Loretta. Later in 2009, SJP spoke to Billy Bush of Access Hollywood and elucidated on her decision to hire a gestational surrogate to expand her family. She explained,
Unfortunately, the paparazzi somehow found and followed Sarah Jessica Parker's surrogate. Tabloids questioned the surrogate's character, but Sarah Jessica Parker firmly denied those reports as "slander and libel." In fact, the paparazzi not only hounded the surrogate, but according to Sarah Jessica Parker, the photographers once mistook the surrogate's pregnant friend for the surrogate and chased her to take a picture. Sarah Jessica Parker said,
In an interview with Vogue, Sarah Jessica Parker talked about confronting pressure to keep the surrogacy a secret. The movie star said it was difficult not to have a chance to celebrate or share worries during the gestational period in the way one might under other circumstances. She emphasized how different it feels to wait nine months to talk about the baby news. But on the whole, it sounded like Sarah Jessica Parker's surrogacy experience was incredible. She stated,
Wow, that is pretty magical stuff.
Ellen Pompeo and Chris Ivery
Like Sarah Jessica Parker, Ellen Pompeo was already a mother of one--daughter Stella Luna Ivery--when the actress enlisted the services of a surrogate to help her and her husband, Chris Ivery, have another child. In an interview on Jimmy Kimmel Live!, the Grey's Anatomy actress opened up about the terrific experience she had and said,
Thanks to surrogacy, Ellen Pompeo and Chris Ivery welcomed Sienna May Ivery to the family.
Tyra Banks and Erik Asla
A gestational surrogate helped Tyra Banks welcome York Banks Asla, her son with photographer Erik Asla, in 2016. The former Victoria's Secret Angel took to social media to reveal the birth and wrote,
The supermodel and media mogul continues to post photos of her beautiful baby boy. It looks like he has already learned how to work the camera and "smize." Check out those beautiful blue eyes:
With a supermodel mom and a fashion photographer dad, this little guy could one day follow in his parents' footsteps in the entertainment business.
Nicole Kidman and Keith Urban
Before turning to surrogacy, Academy Award-winner Nicole Kidman was already mom to two adopted children from her marriage to Tom Cruise and one biological child with her husband, Keith Urban. She had previously talked about the troubles she and Urban faced conceiving their first biological child, daughter Sunday Rose Urban. They turned to in-vitro fertilization to help them have her but then opted to recruit a surrogate to have their second biological daughter, Faith Margaret Urban. The couple released a statement, and they said,
Like Sarah Jessica Parker and Mathew Broderick, Nicole Kidman and Keith Urban kept silent about the surrogacy until after the baby was born. Now rumors have it Kidman and Urban had such a fantastic surrogacy experience that they are looking for another surrogate to expand their family with one more child.
Jimmy Fallon
The Tonight Show's Jimmy Fallon and his wife, Nancy Fallon, reportedly tried to have a child for five years before reaching out to a surrogate. Like other celebrities, they did not talk about the experience until after their daughter, Winnie Fallon, was born. However, he announced her birth in a cute monologue on his show. Check it out here:
After the great experience the Fallons had with their surrogacy journey, they recruited a surrogate to carry their second daughter, Frances Cole Fallon, who was born in 2014.
Angela Bassett and Courtney B. Vance
Angela Bassett and Courtney B. Vance had twins via surrogacy in 2006. The stars brought their two little ones with them for a sit-down interview with Oprah Winfrey. Bassett explained that she felt had devastated after undergoing seven years of fertility treatments with no luck. Then one day her friend shared the news that she and her husband were going to have a child in four months. The American Horror Story and Black Panther actress said her friend did not look pregnant at all, so Bassett asked for details and discovered her friend had recruited a surrogate. Bassett said,
On the show, the movie star became emotional when she talked about how full her heart was with her two boys, Bronwyn Vance and Slater Vance. She said it was a powerful thing to stand there at the hospital with her husband and their surrogate and realize their dreams were about to come true.
Matt Bomer
Angela Bassett's American Horror Story co-star, Matt Bomer, also became a parent with the help of surrogacy. Bomer publicly came out of the closet in 2014 when he announced he and his publicist husband, Stephan Hall, had married three years earlier. Since then, Bomer and Hall have become busy dads with three boys, including twins.
The list of Hollywood stars turning to surrogacy does not stop here. Many other stars, including Star Wars producer George Lucas and his wife, Mellody Hobson, have opted for surrogacy to have a child. Actress Katey Sagal had her daughter, Esme Louise, via surrogate. Dennis Quaid and his wife, Kimberly Buffington, also used surrogacy to have their twins in 2007. Similarly, surrogacy helped Ricky Martin become a single dad when he had twin boys in 2008. Power Rangers star Elizabeth Banks and her husband, Max Handelman, also had twins as a result of surrogacy.
So, it seems like Kim Kardashian and Kanye West are going to join an illustrious group. It will be interesting to see how open about the surrogacy journey they are on Keeping Up with the Kardashians.
Your Daily Blend of Entertainment News