How Long Taylor Swift's Reputation Will Be Kept Off Of Streaming Services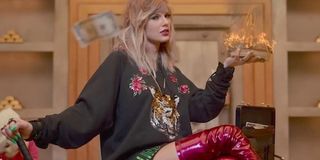 Taylor Swift has no qualms about defending her right to make money from her music, even in an age when more and more music artists are turning to streaming programs to broadcast their works. Now it sounds like the 27-year-old pop star plans to keep her latest effort, Reputation, off of such websites at least for a week after its release on November 10. Instead, Swift is limiting the sales of Reputation to brick-and-mortar stores and online markets like Apple iTunes to amplify her album sales and make a statement about better pay for musicians.
However, executives from streaming services are still clamoring to work out the particulars of a better contract with Taylor Swift and her team. As Bloomberg tells it, services like Spotify hope Swift will come around and allow them to post the tracks as soon as they become available. After all, Swift is one of the most popular musicians in the world, so the potential revenue from users listening to her music would be astronomical, especially because Reputation has 15 tracks, the titles of which Swift revealed in an Instagram post:
In fact, Taylor Swift's label evidently thinks Reputation will sell 2 million copies in one week. Billboard says experts are skeptical about that prediction for reasons including the fact Reputation's first singles have not performed as well as those from her previous three albums-- which each sold more than 1 million copies in their first week. Still, the label apparently had far lower expectations for Swift's past efforts. So if her label says this album will soar to the top and sell 2 million copies in seven days, it is no wonder streaming services want a piece of the action. But Swift and her peeps might think it would be hard to get to their sales goal if audiences play the album song by song with streaming services.
The issue partly has to do with principle. Taylor Swift has said streaming services do not fairly pay hard-working musicians, even though there is enough money to go around. Essentially, services like Spotify follow a model that lets audiences listen for free while the company makes money from ads, and services like Apple Music require a paid subscription. They seem to make plenty of dough using whatever business model they choose, so Swift's implication seems to be they are cheating she and other musicians out of their decent paycheck. When Swift previously took her music off streaming services it helped her take back her power as an artist and, at the same time, make a stand on behalf of lesser-known musicians. Thus, Swift's decision to omit Reputation from streaming services for a week could be good business, but it probably is also personal because it could have a positive impact on how streaming services deal with her fellow music artists.
It's great when artists stick up for themselves and their rights, and Taylor Swift's work to change how streaming services value her has a lot more to do with other artists than it does her. Hopefully, when she informed the executives, Swift called them on the phone like Samara in The Ring and, in her "the old Taylor is dead" phone voice, let them know the scary news: seven days.
Your Daily Blend of Entertainment News
Your Daily Blend of Entertainment News
Thank you for signing up to CinemaBlend. You will receive a verification email shortly.
There was a problem. Please refresh the page and try again.