Caitlyn Jenner Reportedly Hasn't Spoken To Kim Kardashian In A Year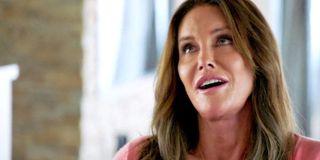 Recently, Caitlyn Jenner visited the U.K. to discuss her controversial memoir, The Secrets of My Life, at the Cambridge Union. During the Q&A session, the 68-year-old retired Olympic decathlete revealed the news she has almost no contact whatsoever with her ex-wife or the Kardashians. In fact, Caitlyn Jenner said she and her former stepdaughter, Kim Kardashian, had not spoken in a year. The update marked a continuation of the negative feelings between Caitlyn Jenner and her Keeping Up with the Kardashians relatives--save for her biological daughters, Kendall Jenner and Kylie Jenner. Caitlyn Jenner explained,
Caitlyn Jenner also admitted her ex-wife, Kris Jenner, and the Kardashian celebrities most likely do not want her in their life anymore. She described the new dynamic with the kids she helped to raise as "devastating." However, the update at the promotional event tiptoed around how it is not only Kim Kardashian, but also the rest of the KUWTK personalities whom Caitlyn Jenner has not talked to in a long time. According to Daily Mail, Caitlyn Jenner said on Piers Morgan's Life Stories she had not spoken to Kris Jenner in a year, either. Caitlyn Jenner noted she and Kourtney Kardashian never talk, and she revealed it had been two years of silence from Khloe Kardashian. She did not mention Rob Kardashian, but one can surmise their relationship has ended, too.
In fact, Caitlyn Jenner told Piers Morgan she recently spent a brief time with some of her former KUWTK relatives at Kendall Jenner's birthday bash. Apparently, everyone remained amicable to focus on giving the budding supermodel a memorable birthday party. However, the situation was not warm and fuzzy, and interactions were brief. For example, a source for People says Caitlyn Jenner and Kris Jenner exchanged nothing more than a mere "hello."
It is worth noting the irony in Caitlyn Jenner talking about the dead relationships at promotional events for her book, as that book seemed to be the final nail in the coffin for those bonds. In the memoir, the I Am Cait personality unloaded her perspective of details surrounding her and ex-wife, Kris Jenner's sometimes-tumultuous marriage. When the book hit stores, the KUWTK cast members wasted no time in bashing it. Kris Jenner even called the book "all made up," and she said she was "done" trying to build any semblance of a friendship with Caitlyn Jenner.
Similarly, Kim Kardashian railed against it on the E! reality television program and in several interviews. For instance, the KUWTK cameras captured a conversation between Kim and Kourtney Kardashian talking about Caitlyn Jenner's claims that Kris Jenner mishandled their money over the years. The sisters called the stories falsehoods. Then in April, Kim Kardashian told Ellen DeGeneres she and Caitlyn Jenner were not on speaking terms, and she implied the memoir was the reason for the falling out. Then Kim Kardashian told Andy Cohen she believed it would be nearly impossible for Caitlyn Jenner ever to make amends with her mom, perhaps indicating it could be the same way for Kim Kardashian, too.
So, it appears the pain is still raw for Caitlyn Jenner, but she, Kim Kardashian, and everyone else seem to be moving on day by day. We'll be sure to let you know if more meaningful interactions occur, though such a situation sounds unlikely at this point.
Your Daily Blend of Entertainment News
Your Daily Blend of Entertainment News
Thank you for signing up to CinemaBlend. You will receive a verification email shortly.
There was a problem. Please refresh the page and try again.