Why Kris Jenner Is Furious Over Caitlyn Jenner's Book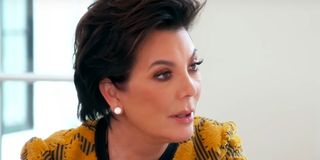 Caitlyn Jenner is excited for the publication of her new tell-all memoir, The Secrets of My Life, which includes a revealing look at her marriage to ex-wife Kris Jenner. However, not everyone is happy about the book. Kris Jenner apparently felt betrayed by the stories her ex-husband shared, and she claimed the book is full of fabrications. In fact, she had no qualms speaking about how she felt after reading the book. In an upcoming preview for Keeping up with the Kardashians, the matriarch of the Kardashian-Jenner clan opened up about her former husband's scathing revelations:
Kris Jenner spoke in an honest way about her hurt feelings on her hit E! show, Keeping Up with the Kardashians. As a savvy businessperson, Kris Jenner is often careful with her words, but she and her kids have built an empire on pushing the envelope in their "private" discussions on camera. So, she even tackled insinuations that she knew Caitlyn Jenner was transgender all throughout their marriage.
We, the fans, love watching the insights, silliness, and moments of clarity from everyone in the family, but at this point, we can read their facial expressions and gestures enough to see through the façade when Kris Jenner says, "I'm done." We know her well enough to understand she's probably not "done." They have two super famous kids together, so there are likely to be occasions when they will have to meet up again. What she probably means is, "I'm sad and hurt. I wish my ex-husband understood the pain I feel."
Of course, Caitlyn Jenner seems to have similar feelings about Kris Jenner. On I Am Cait, Caitlyn Jenner went into detail about how unheard she felt when she was a man married to Kris Jenner. Now, the explosive anecdotes in the memoir are throwing salt on a wound that has clearly not healed.
To be honest, it sounds like Caitlyn Jenner and Kris Jenner both are bitter for similar reasons, many of which did not have to do with Caitlyn's transitioning. The former spouses seemed to have a lot of resentment toward each other at the end of their marriage. Despite feeding us the notion that they buried the hatchet, it seems more likely that they swept their problems under the rug. We hope they can resolve the matter in a way that does not create more hurt feelings between them. We will be here to fill you in on any updates--such as, perhaps, future apologies--in the family feud.
Your Daily Blend of Entertainment News