Prince Harry And Meghan Markle Are Officially Engaged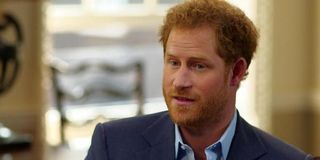 Wedding bells will soon be ringing for Prince Harry and Meghan Markle. The 33-year-old prince and the 36-year-old Suits actress have been together for more than a year. People have enjoyed watching their courtship blossom into a modern royal romance. The Clarence House, the royal residence in London, tweeted an official statement about the engagement. Take a look:
The official statement in the tweet from the Clarence House explained the wedding should occur sometime in Spring 2018. (Is that fast for a royal wedding?) The announcement also said the couple should move into Nottingham Cottage at Kensington Palace, which sounds dreamy. The couple later appeared for a photo shoot on the day of their engagement. Take a look:
The exciting engagement news came with official statements from the couple's closest family. Also out of the Clarence House came a statement from Prince Harry's father and stepmother--Prince Charles and Camilla Parker-Bowles, the Duchess of Cornwall--who expressed joy, noting they were "thrilled" about the new development.
Similarly, Queen Elizabeth II and Prince Philip, the Duke of Edinburgh, gave congratulations. Meghan Markle recently spent time with the Queen over tea at Buckingham Palace, and while Prince Philip was not there, he did join his wife in expressing well-wishings, stating:
Then Prince William and Princess Catherine gave a statement. Prince William and Prince Harry have been through tons together, and they have a profound brotherly bond. But it has been heartening to see how Kate Middleton has become close with her brother-in-law, too, particularly through the Heads Together campaign they worked on with Prince William to help end the stigma around mental health. It is lovely knowing the Duke of Cambridge and Princess Catherine are welcoming Meghan Markle. They said:
Also, Meghan Markle's mom and dad released a statement via the official Twitter of Kensington Palace. The Markles included loving words for their beloved daughter and future son-in-law:
Prince Harry and Meghan Markle have found ways to show their love without putting it on blast all the time. For example, Markle attended Pippa Middleton's wedding reception in May as Prince Harry's plus one. This act was meaningful because Middleton had followed royal wedding rules like "no ring, no bring." When word got out that Middleton had invited Markle to the reception, the story made headlines around the world and led to reporters following Prince Harry's every move to get a glimpse of him bringing his Amercian GF to the party. But the couple kept it quiet.
Some months later, Meghan Markle made headlines again by calling Prince Harry her boyfriend in a major magazine article in which she described their low-key relationship. Supposedly, her honesty left royal advisers baffled and bothered, as Prince Harry had previously asked the press and the public to respect Markle's privacy. In fact, in the interview, Markle even made it sound like she hoped people would give her and Prince Harry space to let their romance grow organically. It was ironic because the article itself seems to have helped to catapult their relationship to the next level.
However, the two still did not "confirm" their relationship until the Invictus Games in Toronto, Ontario this year. It was amusing there was still speculation by then. Prince Harry and Meghan Markle had already made their love clear. Prince Harry had dipped out of an official royal Easter event to travel to Canada to see Markle. She had already given the aforementioned candid article. They had been to Botswana a couple of times. But people still wanted to see them together. So, their first public outing happened at the Invictus Games, and even then they didn't sit together right away--because you get what you get and you don't get upset.
Scrutiny perhaps comes with the territory, and Prince Harry and Meghan Markle's relationship has indeed faced it. There have been a lot of references to King Edward VIII, who chose to abdicate the throne in 1936 to wed his American girlfriend, Wallis Simpson, a divorcee. It seems antiquated for divorce to be a concern in 2017, especially for the modern royals, but many people have asked about it with regard to this relationship, as Markle previously was married between 2011 and 2013. In fact, The New York Times even mentioned how Prince Harry previously condemned the "racial undertones" he had observed in the press' coverage of his relationship with Markle, who comes from a mixed heritage.
Regardless, most of the stuff out there about Prince Harry and Meghan Markle's romance has been fantastic, especially from us here at Cinemablend. We are super excited for this gorgeous couple to take the plunge, and we can hardly wait for news about the location, the guest list, the dress, and everything in between.
Your Daily Blend of Entertainment News
Your Daily Blend of Entertainment News
Thank you for signing up to CinemaBlend. You will receive a verification email shortly.
There was a problem. Please refresh the page and try again.