John Stamos Posts Touching Tribute To His Father After Announcing He's Expecting A Child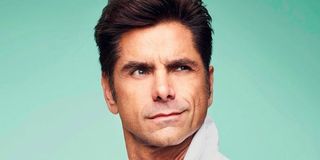 John Stamos and his actress fiancé, Caitlin McHugh, are expecting a bundle of joy sometime in 2018, and it seems like Stamos could not be more excited if he tried. The 54-year-old Full House actor recently shared a heartening throwback photo on social media to show himself with his own beloved father, who passed away in 1989. Stamos added a lovely caption to dedicate his love to his dad. Take a look:
Have mercy! What a beautiful sentiment. John Stamos added a touch of humor to his Instagram post with the hashtag "balance," which it looks like he was doing as a toddler in this photo. Plus, the cute hashtag shows the Scream Queens actor knows it will take hard work to juggle his work with his home life, but in the end, it should all be worth it.
It is not the first time John Stamos has expressed his love for his parents. When Stamos and Caitlin McHugh announced the pregnancy to People, Stamos talked about his love for his mom and dad, both of whom are deceased. In fact, in a sit-down interview with the magazine's Jess Cagle, Stamos about how much he admired his father and said,
John Stamos also said he wished his parents were alive to meet his child next year. However, Stamos indicated he finds peace of mind in the idea his mom and dad are in heaven sending prayers his way for a happy life. He shared a similar sentiment with the magazine and talked about his parents smiling down from above when he and Caitlin McHugh got engaged earlier this fall.
Speaking of which, John Stamos and Caitlin McHugh's wedding still has no confirmed dates yet. The pair announced their engagement in October after Stamos proposed to McHugh with a romantic Disney proposal at Disneyland's California Adventure. The special moment included a movie with lovey-dovey scenes from Disney and Pixar movies, and it ended with the proposal.
Before the engagement and pregnancy announcement, John Stamos and Caitlin McHugh tried to keep a low profile about their relationship. McHugh had previously told reporters she and her heartthrob boyfriend (at the time) preferred to keep their love low-key and out of the public eye because they had seen how other relationships had fallen apart when the media was too involved. Regardless, the exciting moments happening for McHugh and Stamos certainly warrant the attention.
After all, this child will make John Stamos a dad for the first time. No wonder he is so pumped and proud. From the sounds of it, Stamos had a great dad to model himself after, so surely Stamos will work to be a great dad, too.
Your Daily Blend of Entertainment News
Thank you for signing up to CinemaBlend. You will receive a verification email shortly.
There was a problem. Please refresh the page and try again.