21-Year-Old Man Found Dead In Demi Moore's Pool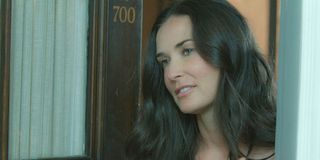 Early this morning Los Angeles police responded to a 911 call which led them to the home of actress Demi Moore. When they went to the backyard, a crowd was formed around a body. The man's identity has still not yet been released but he was found dead at 5:30 a.m. Coroner's officials say that the 21-year-old accidentally drowned in the backyard swimming pool, and police state that Demi Moore was not home at the time.
TMZ first reported the incident, which is still currently developing. Neighbors had told the publication that Demi Moore's children had been staying at the house for weeks, throwing frequent pool parties, so it was assumed this may have been another one of their events. The actress and homeowner was out of town during the incident, and law enforcement sources are claiming that no one of the Moore family was present at the accident.
Apparently, Demi Moore's caretaker was the one who threw the party and had invited the victim. Police told US Magazine that there was a maid present that morning, and there were five people in the house at the time of the incident. There is no trace of foul play, and it was said there was "a limited amount of alcohol". The man who drowned did not know how to swim, and reports state that he slipped and fell into the pool. The caretaker and others at the party had gone out, so they were not aware of the victim's fall until they returned to the site and found him at the bottom of the pool. It is believed that he fell in the pool overnight and was found in the morning. Again it was reiterated that neither Demi Moore nor her children were there at the scene.
While undoubtedly a tragedy, we are left with a few questions. For one, why was this man left all alone while the entire party "went out"? And also, was the caretaker allowed to be throwing a party at the actress' house in the first place?
Demi Moore has not opened up for any statements on the incident and police are still investigating for further details.
Your Daily Blend of Entertainment News
Thank you for signing up to CinemaBlend. You will receive a verification email shortly.
There was a problem. Please refresh the page and try again.