Amazon Announces Kindle MatchBook: Buy The Print-Edition, Get The Kindle Book Cheap Or Free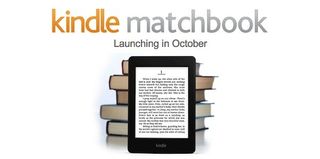 Following up on their excellent AutoRip feature and Whispersync for Voice, Amazon is introducing "Kindle MatchBook," a new incentive that offers a discounted price for select eBooks if you purchase or have previously purchased the print edition of the book. This feature will go into effect this October, so if you're a Kindle reader who's ever purchased a print book from Amazon at any point since 1995, you may benefit from this feature come next month.
Amazon announced Kindle Matchbook today, stating that the benefit gives customers the option to buy -- for $2.99, $1.99, or $0.99, or free -- the Kindle edition of print books they have purchased new from Amazon. And this goes all the way back to 1995 when Amazon first launched as an online bookstore. It sounds like eligibility for the books will rely on the publisher's willingness to enroll the title into the Kindle MatchBook program, but Amazon says over 10,000 books will already be available once Kindle MatchBook launches in October.
While I can see this program being hugely beneficial for Amazon if they're looking to sell more eBooks, as those readers who have yet to convert might see this as an incentive to switch from paper to digital and take all or most of their beloved books with them, as the "read anywhere" bullet point in the above lists notes, you don't need to own an actual Kindle device in order to read Kindle books. If you have an iPhone or Android phone, an iPod touch, an iPad, or a computer, you should be able to read Kindle books. Amazon's pretty generous with the way they allow readers to access their Kindle library, which is an indication that the store is more keen on selling content than they are eReader devices. Of course, owning a Kindle has its own benefits, including the mentioned X-Ray feature, and Whispersync, which allows you to jump from device to device and - providing your Kindle's hooked up to Wifi - the book will update automatically to the latest page read.
Looking back at Amazon.com's history, the store has constantly evolved, from its earlier days of peddling books to the masses to becoming an internet megastore, selling everything from books, movies and music to groceries, jewelry, clothes, furniture and electronics. The site takes shopping to the next level. I say this as a satisfied customer and Prime subscriber whose purchase history goes back to 1999. I feel like that needs to be clear here, because I tend to rave about Amazon and I realize it might come off as some kind of promotional effort. To lay it all out on the table for you, my opinions here are as a satisfied customer. As long as Amazon keeps offering great prices, variety and incentives like these, I'm a happy camper.
On that note, MatchBook seems like a cross between Amazon's WhisperSync for Voice and AutoRip. The former offers a discount for the audiobook version of a book if you previously purchased the Kindle version. It's applicable to select books and often prices audiobooks as low as $5 or less. The added benefit to that is that the audiobook syncs with the Kindle book, so you can bounce between the two formats and not have to continuously try to find your place. AutoRip, meanwhile, is a program that was introduced earlier this year and offers free digital versions of select albums if you purchase the CD (and yes, you can download the digital versions and put them into iTunes if you want). And like MatchBook, it works retroactively, so if you've purchased a CD from Amazon at any point since 1998, check your cloud player, you may have songs waiting for you!
Not only does this Kindle MatchBook allow readers to update their Kindle library at a significantly lower cost, but it also seems like a reward for those customers who've been shopping at the site for years. As someone who rarely buys actual books anymore, I'm more excited to see which of my past book purchases are eligible for this feature. It'll be exciting to check out this program once it goes live in October. The mentioned "Easy Discovery" indicates that they'll make it simple for us to figure out which books we've purchased and whether or not they're eligible for a Kindle MatchBook discount.
I'm pretty sure I said this when AutoRip launched, but I'll say it again: Amazon, please do this for movies. Imagine getting free or discounted digital versions of all the DVDs you've ever purchased?
Your Daily Blend of Entertainment News
Assistant Managing Editor
Kelly joined CinemaBlend as a freelance TV news writer in 2006 and went on to serve as the site's TV Editor before moving over to other roles on the site. At present, she's an Assistant Managing Editor who spends much of her time brainstorming and editing feature content on the site.