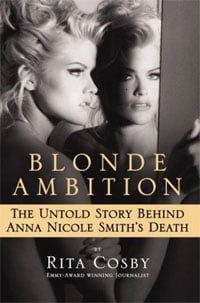 A new book on the life of Anna Nicole Smith reveals Anna's suspicion over the drug-related death of her son, among other curious revelations.
In "Blonde Ambition: The Untold Story Behind Anna Nicole Smith's Death," Smith accuses her onetime lover Howard K. Smith of playing a role in the death of son Daniel Smith. Written by former television journalist Rita Cosby, the New York Daily News reports the book interviews former employees of the Playboy Playmate claiming they heard her yelling at Stern while waiting for the coroner's report on Daniel's death, "You did this! You killed him! You caused this!"
More shocking allegations are presented by Cosby. The author alleges that Stern and one-time Smith boyfriend turned daddy Larry Birkhead were caught engaging in oral sex at Anna's house by Anna and a friend. The book also alleges that Stern and Birkhead were gay lovers the entire time of their commingling relationship with Smith. The book continues to accuse Smith and Birkhead of conspiring to a secret deal whereby Birkhead would retain custody of Anna Nicole's daughter, Dannielynn, and Stern would be named executor of the estate. Birkhead was declared the girl's biological father through DNA testing which perhaps shoots down that theory.
Dannielynn, who turns 1 this Friday, has the legal go-ahead to fight and make a claim on inheriting hundreds of millions of dollars from the estate of Smith's late husband, oil man Howard Marshall. Between teething and potty training, it probably ranks low on her list of priorities. However, it does seem to be the glue that holds all the adults together in the public legacy of Anna Nicole Smith.
Birkhead and Stern, who are just good friends, deny all the book's claims. Of course the litigious duo intend to sue Cosby, setting the stage for yet another drawn-out legal battle. The book goes on the to tell that Smith's 20-year old son, Daniel, before his death of an accidental prescription drug overdose related to past illegal drug use, met with detectives because he was "deathly afraid" of Stern and his manipulative ways on his mother.
Former employees who spoke with Cosby were not all favorable towards Howard. One employee said that Anna Nicole was "afraid" of Howard and stated that he had a "strong hold on her."
Just in the nick of time an attorney for Stern, Lin Wood, told the Daily News the book is "pure fiction." The lawyer continues, "Sadly, it appears that Ms. Cosby made a decision out of personal greed to publish these false rumors with reckless disregard for truth or falsity."
OK! Magazine also broke ties with Birkhead over these allegations in Cosby's book, severing a $1.7 million deal for photo coverage of Dannielynn's first birthday. Now Birkhead can celebrate his daughter's birthday in peace or until another magazine deal can be struck.
Your Daily Blend of Entertainment News