Aretha Franklin Engaged At 69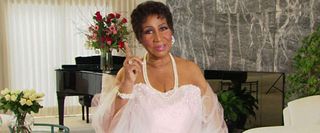 Aretha Franklin has always been one to add a sprinkle of spunk and a little mystery to her relationships. She has never publicly announced her children's fathers, and she later had a quick affair that led to a marriage with Ted White. Now, she has some brand new personal news that should come out of left field for everyone who hasn't been keeping some serious tabs on the songstress.
Maybe Franklin's new news has something to do with successfully battling a health scare in 2010 and earning a new fervor for life. Or, maybe she just wants to live a little as she gets up in years. Either way, the 69 year-old R&B, pop, and soul diva announced today she has gotten engaged to longtime friend Willie Wilkerson.
The couple plans to wed in the upcoming summer, hopefully sometime between the months of June and July. According to People, Franklin has an iconic dress in mind to match her persona. The singer's rep says she has plans to have a high-end designer dress made to suit her needs.
Whichever way she chooses to go, I'm sure the dress will be beautiful. With some nice summer weather and a Miami venue picked out, Franklin seems well on her way to planning a perfectly dreamy wedding with a lovely beau, who also happens to be a great friend. Sometimes you have to wait a little later for the cards to fall so nicely, but it is still lovely when they do. Pop Blend wishes the happy couple congratulations and good luck on the planning in the upcoming months.
Your Daily Blend of Entertainment News