Bella's Breaking Dawn Wedding Dress Can Be Yours For $799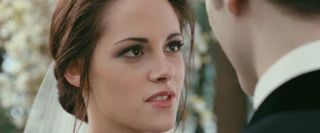 Bella's wedding dress in The Twilight Saga: Breaking Dawn - Part 1 was such a big deal that it was left out of all the promotional materials, with every shot of her at the wedding carefully trained on her face. It was such a big deal that it was revealed in stages in the film, starting with closeups and eventually giving fans the full shot when she stepped up to the altar. As I wrote in my review of the movie, the dress was being treated like the kind of spectacle you usually see in male-driven action movies-- yards of satin instead of giant fireballs. And the dress isn't just a phenomenon within the movie-- it's now about to be a bestseller for actual, real-life brides.
Today the Bella dress, made by retailer Alfred Angelo based on Carolina Herrera's original design for the film, ships to stores, selling for $799 to brides everywhere who want to have a big day as enchanted as Bella Swan's. It's a pretty near match for the dress Kristen Stewart wears in the film, with long sleeves trimmed in lace, a plunging cut-out back and stitching in the front to define the bride's waist. Bella's dress was made of silk but the version you can wear is liquid satin-- that's the price you pay to get a custom designer gown for $799 retail.
Designer Michael Shettel admits to The Washington Post that the gown is unlikely to sell to the non-Twihards, saying "It really is for a Twilight fan because it does represent what the film is about." But he catches himself to add "I think the silhouette transcends may different viewpoints." In a way I think he's right-- the long sleeves and lace details are hugely reminiscent of Kate Middleton's wedding dress, which instantly inspired brides everywhere even if they weren't clamoring to buy an exact copy. It's hard to know which family I'd less rather marry into-- a clan of vampires or the British royals-- but even I envy those wedding dresses. So, mission accomplished?
Your Daily Blend of Entertainment News
Staff Writer at CinemaBlend