Benedict Cumberbatch Impersonates Jar-Jar Binks, Gollum And Vin Diesel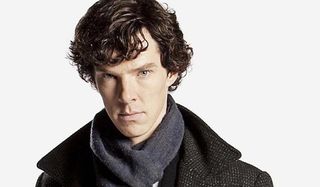 British actor and thinking woman's sex symbol Benedict Cumberbatch is at Comic Con to promote his upcoming role in the animated adventure Penguins of Madagascar …and possibly an announcement as Doctor Strange. Amidst all the fandemonium the Sherlock star inspires, he took the time to sit down and get silly, doing a string of impersonations from Vin Diesel to Jar-Jar Binks and Gollum. Because why not?
Sitting down with MTV for what is clearly a longer interview, Benedict Cumberbatch just gave us an eleventh reason to adore him: he's a goofball. It seems that a discussion about learning the Boston accent for the upcoming Whitey Bulger movie Black Mass led to these flights into Fast & Furious, Star Wars, and Hobbit fandom. But who cares when it is such a delight to see this performer transform from his typical brooding onscreen persona to one that is daffy and downright adorable.
Of course, these aren't the only impressions Cumberbatch has deigned to share with the public. In case you missed it, here's a few he broke circa Tinker Tailor Soldier Spy. This vid includes eerily accurate impersonations of Alan Rickman, David Tenant, and talk show host Jonathan Ross.
Cumberbatch followed this up with an Alan Rickman-off versus Jimmy Fallon on Late Night. As you might have guessed, Cumberbatch smoked Fallon. But you might not have suspected he'd do it by rapping "I like big butts" as Alan Rickman.
Might we suggest that Benedict Cumberbatch face-off against our other beloved, impression-nailing crush Tom Hiddleston? It might cause us to explode, but personally I can't think of a better way to go.
Your Daily Blend of Entertainment News
Staff writer at CinemaBlend.
Your Daily Blend of Entertainment News
Thank you for signing up to CinemaBlend. You will receive a verification email shortly.
There was a problem. Please refresh the page and try again.