Boxing Legend Muhammad Ali Dead at 74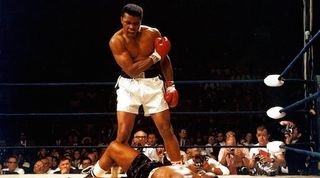 Muhammad Ali, the legendary boxer and civil rights activist has passed away. Ali died Friday at a Phoenix area hospital where he was being treated for respiratory issues. According to NBC News, Ali suffered from Parkinson's disease for the last three decades and was slowly robbed of his speech and physical ability.
The three-time Heavy Weight Champion, he was born Cassius Marcellus Clay on January 17, 1942, in Louisville, Kentucky. He began boxing at the age of 12 and went on to win Golden Gloves titles, and then competed in the 1960 Olympics in Rome. He won a gold medal in lightweight boxing and returned home to pursue a career in the pros.
Dubbed the "Louisville Lipr" for his tendency to talk up his own abilities, Muhammad Ali rose his profile before getting the opportunity to fight heavyweight champion, Sonny Liston. Ali attacked with his words as much as his fists, yelling he'd "float like a butterfly, sting like a bee." Ali defeated Liston in the sixth round after a technical knockout, and Ali proclaimed loudly for the arena to hear, "I am the greatest! I am the greatest! I'm the king of the world!"
Muhammad Ali would go on to have more bouts that would go down in boxing history. He developed one of the greatest sports rivalries with Joe Frazier and the third match of their trilogy in 1975, the "Thrilla in Manila," is said to be one of the greatest boxing matches of all time. In 1974, Ali had a match with George Foreman in Zaire that was dubbed "The Rumble in the Jungle." It was such a massive event that it was preceded by a three-day music festival, with performances from artists such as James Brown and B.B. King. It was during this fight that Ali created his 'rope-a-dope" strategy, where he'd lean defensively against the ropes until his opponent got tired and then he'd go on the offensive. It's a move that's been copied be plenty of other boxing champions over the years.
Not just a champion in the ring, Ali was also a powerful civil rights leader. When he was 22 years old, Ali renounced his birth name as his "slave name" and converted to Islam. It was a controversial move that divided the American public. In 1967, at the height of the Vietnam War, Ali was drafted into service. Ali did not agree with the war and considered it against his faith; he refused to serve. Stating that he had "no quarrel" with the Vietcong, Ali refused to fight for a country that wouldn't give him equal rights, but expected him to potentially die for it anyway. He was stripped of his boxing titles and was sentenced to five years in prison for draft evasion, though he eventually got the conviction appealed. He'd go on to do a lecture circuit at college campuses promoting his views and civil rights. Broke and out of options, he'd eventually work towards reclaiming his titles and status in his first match against Joe Frazier.
After he retired from boxing, Ali traveled the world pushing for philanthropic causes. In 2005 President George W. Bush awarded him the Presidential Medal of Freedom. Muhammad Ali is survived by his wife and nine children.
Matt has lived in New Jersey his entire life, but commutes every day to New York City. He graduated from Rowan University and loves Marvel, Nintendo, and going on long hikes and then greatly wishing he was back indoors. Matt has been covering the entertainment industry for over two years and will fight to his dying breath that Hulk and Black Widow make a good couple.
Your Daily Blend of Entertainment News
Thank you for signing up to CinemaBlend. You will receive a verification email shortly.
There was a problem. Please refresh the page and try again.