Carrie Underwood Gives Out Her Phone Number But Nobody Calls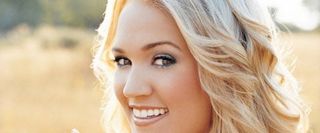 If you're a contestant on American Idol and you make it to the finals, then you can expect to receive Carrie Underwood's phone number. What would you do with it? Well, you could call her up to get advice on the music industry, ask her what her favorite movie is, or even ask her opinion on foreign policies. Nobody is calling her though.
E! Online broke the news today that she gave Idol winner Scotty McCreery and fellow finalist Lauren Alaina her phone number, but they haven't called her yet. Here's what Underwood has to say about it:
Maybe the Idol contestants are too busy enjoying their fame to talk to you? And this isn't her first time swapping numbers with a final contestant either, she gave David Cook her number, but it took him a while to call her back. She says: "I think David Cook is the only one I've managed to become friends with and we swap stories and talk about stuff, but nobody ever calls me. So maybe they will."
Your Daily Blend of Entertainment News
Thank you for signing up to CinemaBlend. You will receive a verification email shortly.
There was a problem. Please refresh the page and try again.