Carrie Underwood Shows Off Toned Legs On Blown Away Album Cover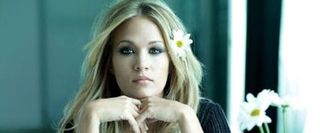 Taylor Swift might be flaunting a brand new hairdo, replete with thick bangs, but another country-pop songstress has Swift beat with a new, even more toned look. Carrie Underwood has an album coming out in May, and she has blown Pop Blend away with the image on the cover.
Underwood's cover for her fourth album Blown Away features a visually appealing shot of a stormy field where our starlet has been caught by what seems to be a gust of wind, but what I'm 99% sure is actually a fan. Either way, her soft, airy dress has caught at the slit, giving fans a peekaboo at a pair of tan and super fit looking legs. Not bad for a 28 year-old, although I don't get what a pair of heels is doing on some rough terrain. That's real fantasy folks.
According to Us Weekly, the "Cowboy Casanova" singer does circuit training at the gym each week, runs in her spare time, and also works from home with balance and resistance materials. Honestly, while it is awesome she goes to so much trouble, I'm not really surprised Underwood works to keep her body in such good shape. After all, she is married to Predators player Mike Fisher, and hockey players generally have less than 10% body fat. You can't live with that and not feel like crap if you aren't super fit, too.
Your Daily Blend of Entertainment News
Thank you for signing up to CinemaBlend. You will receive a verification email shortly.
There was a problem. Please refresh the page and try again.