Coachella 2013: Why Portugal. The Man Is A Must-See Show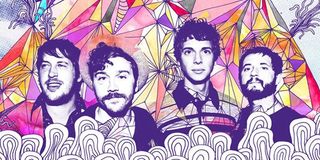 The time between Coachella's first week and its second one is an odd one for musicians, who can choose to take the time to relax in sunny Los Angeles, jet-set elsewhere for part of a week, or find a way to be productive. During my drive to Pomona, California early Thursday evening, there was evidence of the latter everywhere, even in the middle-sized city, where a masthead at the Fox Theater advertised a sold-out show headlined by Vampire Weekend.
I wasn't traipsing to the middle of somewhere to see Vampire Weekend, however. I was there to see Portugal. The Man, a band that has been on my radar for several years, ever since CB writer Joseph Giannone exclaimed the group's praises (there's nothing like earnest enthusiasm to suckerpunch me into listening to music I may have never given a shot to otherwise). In the time since, they've become one of the first bands I gravitate to when dealing with my hour-long work commute--easy to listen to, but offering enough surprises to give me reasons to return time and time again. If you've heard of the group, it's probably been since they signed with Atlantic Records and produced the ambitious In the Mountain Over the Cloud.
I've heard singer John Gourley used to be so shy he would perform with his mike facing away from the crowd, but having not seen this firsthand, the mythos just sort of lends to the aura the group portrays onstage. There was little audience interaction to be had, but it didn't matter, because the group has cultivated a set so tightly crafted that it seems spontaneous, switching between instrumental moments and gleeful pop tracks, while still managing to throw in some covers long included in the cultural lexicon. It's a setlist and a stage dynamic that drew a crowd I wasn't expecting. Drunk girls sporting the kind of boots and haircuts I haven't seen since the last time I caught Tom Petty in Indiana melded in with shirtless stoners (thoughtlessly dropping blunts) and the cutest fifty-something couple you've ever seen, holding hands and wearing matching earplugs. Maybe that's just the Pomona way.
In the last year, the band has been touring and releasing tidbits for the group's upcoming fourth album, Evil Friends, which is set to drop on June 4. The setlist Thursday night was heavy on the Mountain stuff, however, interposed with a bit of new music and some older favorites. From what I can tell, I got the same thing this week that Coachella-goers will get this weekend, if you give the group a chance.
There's a lot of talent to be had at Coachella every year. An indie band slowly and steadily climbing its way up the ranks of "popular" music, making more inroads now they've signed to a major label, is hardly at the top of most festival-goers lists. Regardless, even those who have never listened to the group will be able to feel the enthusiasm the band inspires in its loyal followers and, besides, there are enough snapshots of Weezer and The Beatles covers to entice the most skeptical 'goer. The best thing about seeing Portugal. The Man is something a little more intangible, an energy the group brings to the table in live shows that will hone in on and match whatever energy its audience brings. I can't think of anything more exciting and revelatory than a venue full of sweaty bodies willing to brave heat and bad fashion choices to be present for a weekend of live music. Coachella-goers: You're gonna have one hell of a show.
Reality TV fan with a pinch of Disney fairy dust thrown in. Theme park junkie. If you've created a rom-com I've probably watched it.
Your Daily Blend of Entertainment News
Thank you for signing up to CinemaBlend. You will receive a verification email shortly.
There was a problem. Please refresh the page and try again.