Cybill Shepherd's Son Cyrus Escapes Prosecution Over Theft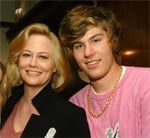 Cybill Shepherd's son has been ordered to attend Alcoholics Anonymous sessions as part of his punishment for charges of mid-air theft.
Cyrus Zacharia Shepherd-Oppenheim was caught rifling through the luggage of sleeping passengers onboard a United Airlines flight from San Francisco, California in January (10). Travellers spotted the 22-year-old student acting suspiciously and alerted airline staff. He was was arrested upon arrival at Philadelphia International Airport in Pennsylvania and later charged with the theft of cash, a camera and other items from carry-on baggage.
Shepherd-Oppenheim managed to avoid jail time during a hearing earlier this month (Jun10) after Philadelphia lawmakers took account of his good name and reputation. He has been placed on a program giving first-time offenders the chance to avoid prosecution. The charges against him will be dropped once he attends 24 alcohol support meetings and pays $55 in restitution. (MT/WNWC&NE/KL)
Copyright 2010 WENN
Your Daily Blend of Entertainment News
Thank you for signing up to CinemaBlend. You will receive a verification email shortly.
There was a problem. Please refresh the page and try again.