Emily Blunt Reveals Why Hollywood Needs More Female Action Stars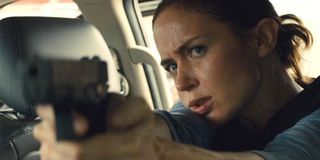 Since Emily Blunt showed she could pull off a badass female warrior in Edge of Tomorrow, Hollywood has started to see her in a different light. Blunt has done it all, from independent films to historical dramas to romantic comedies. But now, her upcoming film Sicario has placed her in yet another action-heavy role. So, as an established female action star, Blunt had a few words to say about the current state of female action roles in Hollywood films, and why there desperately need to be more.
While attending the premiere for Sicario at Toronto Film Festival, Blunt took some time to sit down and chat with Indiewire. The conversation touched on Blunt's previous experiences and her current, but when the actress was asked about the Captain Marvel rumors surrounding her, because of her now two action-heavy roles, Blunt somewhat scoffed. And she continued to explain why this shortlist of actresses rumored for the role, is problematic:
And Blunt makes an important point. When a big action role does come up for a woman, and they are very rare, this shortlist of actresses is created, because they are the only ones that have done it at that capacity before. When we think of the number of female led action films, the big blockbuster ones, there's probably a handful or two. Now, when you think of the male led action blockbusters, well the number is endless.
Blunt didn't seem to have a problem being considered for the role, though she admitted she hadn't been contacted. But really the problem lied in that there are too little of these roles to begin with, so fans and moviegoers can only think of a handful of women that can fit when a new role is created. The more action-heavy female roles that are being created, the more women that can be given the opportunity to show off their badass portrayals. Because they exist in many more minor roles. The X-Men franchise or even the Fast and Furious franchise too. But when it comes to a big budget film, female action roles just aren't usually at the lead. And though we'd all like to see Angelina Jolie star in every female led action movie (which for a time felt like she was), if there were more out there, it may give the opportunity for another fan favorite to shine.
Your Daily Blend of Entertainment News
Thank you for signing up to CinemaBlend. You will receive a verification email shortly.
There was a problem. Please refresh the page and try again.