Angelina Jolie Talking Captain Marvel? Here's The Latest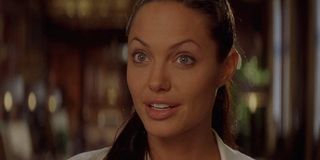 Late last year Marvel announced super heroine Carol Danvers would lead their first female-driven film, Captain Marvel, marking the nineteenth installment in the Marvel Cinematic Universe (and the seventh installment of Phase 3). With more than three years between now and the film's slated July 6, 2018 release, details on who will helm and star in the potential MCU game-changer have yet to come to fruition. But with this latest development, it looks very possible that Angelina Jolie may be the one sitting in the director's chair.
On the high of her latest directorial effort Unbroken, word on the street is that Jolie just received a gargantuan offer to direct Captain Marvel. According to the February issue of OK! Magazine (opens in new tab), the executives at Marvel Studios were so impressed by her handling of the material in the above-mentioned biographical drama that they have offered her a whopping $20 million to direct their first female-led film. While reports say Jolie is seriously considering the offer, no official deal has been struck. Here's what an inside source had to say about it:
The latter comment refers to the leaked emails by Sony co-chair Amy Pascal, who called the two-time director a "minimally talented spoiled brat." Brat or no brat, she may not only soon be $20 million dollars richer, but may also be primarily responsible for laying the tracks for all forthcoming super heroines, as Captain Marvel can literally make or break the entire future of female-led superhero films. Keep in mind, though, that this is coming from a gossip magazine, so it's probably to be taken lightly.
Prior to the above reported information, Joss Whedon was the name that kept coming up as the one likely to fill the coveted yet critical position. Having close ties to both the film and series versions of Buffy the Vampire Slayer, he certainly knows a thing or two about how to handle tough female leads. Also, having directed the hugely successful The Avengers and its upcoming (likely to be even more of a box-office smash) sequel Avengers: Age of Ultron, he is likely at the top of Marvel Studios' list. While Whedon would absolutely be a great fit for the material, he's been pretty clear about wanting to try something else. Besides, Marvel may be right to be put a woman at the helm. Whether Jolie is the right choice is another question entirely though.
Unbroken is Jolie's second film as a director, following her prior 2011 war drama In the Land of Blood and Honey. The biographical war drama, which earned three Academy Award nominations, follows Louis Zamperini through his days trapped in a Japanese prison camp in WWII, prior to his going on to triumph as an Olympic star. Her next directorial effort By the Sea will mark her big screen reunion with husband Brad Pitt, both of who last starred together in 2005's Mr. & Mrs. Smith. While she's proven she can handle difficult material, as well as content based on real life events, Marvel films (and superhero movies in general) are a different beast altogether.
What do you think about Angelina Jolie directing Captain Marvel?
Your Daily Blend of Entertainment News
Thank you for signing up to CinemaBlend. You will receive a verification email shortly.
There was a problem. Please refresh the page and try again.