Evan Rachel Wood Talks Marilyn Manson, Coming Out As Bisexual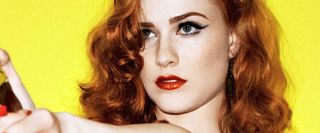 Talented actress Evan Rachel Wood is often talked about more for what goes on in her personal life than the work she does on the silver screen. In 2006, the Ides of March star was rumored to have come between Marilyn Manson and his then-wife Dita Von Teese, which led to an on and off romance that lasted over four years. Wood, who is now in a relationship with British actor Jamie Bell, has always been keen to deny these reports. "The real story has never been told and I've never felt the need to come out and defend myself, because I know what happened and I know I'm not that. I don't need people's approval of my personal life," Wood says. "If you don't know me or the situation, then you can't really have an opinion about it."
Recently, the 24-year-old actress came out as bisexual in an interview which suggested she was all too eager to reveal this little tidbit, leading to speculation that she made the comments just for publicity. Wood, who came out privately to her family years ago, has defended herself in a recent interview with The Guardian:
I like what she's saying here. I definitely think it's important for LGBT youths to have someone to look up to and understand that there is nothing strange about them. However, building yourself up like that as a role model for others is a tricky thing-- I know I wouldn't want to feel like the whole world was watching me, counting on me for inspiration. Wood agrees, and claims she does her best to select roles that really mean something to her in the hope that people will see her passion for acting and not focus on her personal life. "I totally get how sometimes it's hard not to be distracted by that but I just hope that the lasting impression [of me] is going to come from the work," she says.
I think she's doing a decent job of that. She's been a part of some great films, my favorites being Woody Allen's fantastic 2009 comedy Whatever Works and the film adaptation of the Augusten Burroughs memoir Running With Scissors. Hopefully, people will be able to focus on movies like those and ignore the personal drama. After all, none of us really know the truth and it's not really fair to judge someone by what goes on behind closed doors--even if they are keen to bring it up in an interview or two.
Your Daily Blend of Entertainment News
Thank you for signing up to CinemaBlend. You will receive a verification email shortly.
There was a problem. Please refresh the page and try again.