M.I.A. And Nicki Minaj Will Join Madonna For Super Bowl Performance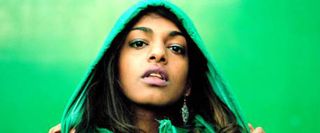 Madonna may have a fresh new album coming out in the spring, but since she has lacked in the hit department in recent years, it seemed her 2012 Super Bowl halftime gig could run a little stale. Luckily, the 53 year-old recording artist pulled some strings, bringing in the Cirque De Soleil crew for added affect, as well as two hot younger recording artists to amp the performance a bit.
Nicki Minaj and M.I.A are set to perform at Super Bowl XLVI in Indianapolis, IN. M.I.A. confirmed the announcement while speaking to Zane Lowe on his BBC 1 radio program. In addition to verifying she will be there to do her thing during the halftime show, M.I.A. had a lot of confident things to say about herself and Minaj's musical prowess.
Biggest female icons or no, it is fitting Minaj and M.I.A. are set to join Madonna during the halftime show. According to NME, Minaj and M.I.A. are both contributing guest vocals to Madonna's brand new single, "Give Me All Your Luvin." The song will not street until February 3, and will not be well known by the time the game rolls around on the 5th, but I would be willing to bet it shows up in the halftime performance this weekend. Maybe the whole thing will even be a little exciting. If there's any value Madonna has ever been good for in the past, it is shock value.
Your Daily Blend of Entertainment News
Thank you for signing up to CinemaBlend. You will receive a verification email shortly.
There was a problem. Please refresh the page and try again.