Jon Hamm Was Allegedly Behind A Brutal Fraternity Hazing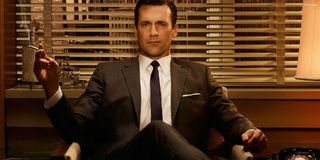 Apparently Jon Hamm has a lot more in common with Don Draper than we previously thought. The actor who we've seen play characters ranging from the beautiful but dumb Dr. Drew Baird on 30 Rock to the charismatic, evil Reverend on Unbreakable Kimmy Schmidt seems to be very talented at playing characters who can cover up secrets with an endearing smile. And it looks like Mr. Hamm may have learned this quality from his own life. Turns out that Jon Hamm was caught up in some nasty business back in his college days including some serious fraternity hazing tactics.
Back in the 1990 when Hamm was a young frat boy at University of Texas him and seven other brothers of the fraternity Sigma Nu were involved in a brutal hazing of an unnamed pledge. The arrest warrants and summons were first found by Star magazine (via Daily Mail), and according to the documents, Hamm was among the brothers charged in an alleged hazing ritual gone wrong. These documents claim that Hamm was eventually charged with assault in connection to the initiation, but the charges were dismissed before the actor began his rise into stardom.
The Travis County Court documents detail the event pretty vividly though. Hamm who was then a 20-year-old sophomore at UT-Austin, along with the other frat brothers called a prospective 21-year-old junior pledge to the fraternity house at 2:30am one night. The junior was told he was in for a long night and soon was subjected to two hours of brutal physical attacks. He told police that Hamm and other members struck him with a paddle 30 times followed by lifting the pledge off the floor by his underwear and 'pulled it back and forth in a sawing motion causing great pain'. Then, apparently Hamm led him to the basement which they called 'Pit' and continued to slam the pledge's face into the ground while he did push-ups, also at times standing on the pledge's spine with full weight. And that's not even the worst of it. Allegedly after all of this, Hamm then set the pledge's pants on fire and made him blow out the fire and wouldn't let him use his hands to pat down the fire. After this was done, the pledge was then taken into the 'Party Room' and according to DailyMail Hamm wasn't through with the pledge and "hooked the claw of a hammer underneath his genitals and led him by the hammer around the room".
That should have been the end of it, but Hamm was allegedly not satisfied, and continued to break into another potential pledge's room to subject him to similar torture. The morning after this gruesome event, the first pledge was apparently "hiding in a closet at his apartment, his buttocks and legs black with bruises," when his mother found him and went to the police. The fraternity was shut down soon after, and warrants were issued for Hamm and seven other members. While three members were sentenced to 30 days in prison, Hamm was hit with hazing and assault charges that were eventually dismissed due to a plea deal. The actor then returned home to live with his family in Missouri and soon began his acting career.
Friends of Hamm told Star magazine that this was completely isolated, and Hamm has worked to better himself since then. But, even if this was only a one time stunt, it's hard not to change your view on the actor, especially considering the type of characters he often plays.
Your Daily Blend of Entertainment News
Your Daily Blend of Entertainment News
Thank you for signing up to CinemaBlend. You will receive a verification email shortly.
There was a problem. Please refresh the page and try again.