At Least Johnny Depp Has A Great Sense Of Humor About Australia Trying To Kill His Dogs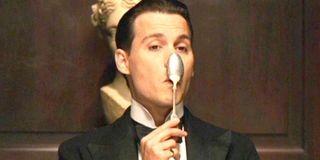 A few months back, Johnny Depp's two Yorkshire Terriers, Boo and Pistol were lighting up headlines for their illegal entry into Australia. The Hollywood star, while filming his latest Pirates of the Caribbean film, brought his two beloved pets into the country without taking any of the appropriate steps in pronouncing the dogs arrivals. In Australia, where laws are quite strict in the process of entering foreign animals, it caused quite the uproar with the Department of Agriculture, and threats were even taken so far as to put the dogs down. Now, Johnny Depp has spoken out about the matter, and at least the actor has put a good sense of humor into the mix.
In speaking with The Guardian about his upcoming release, Black Mass, the Edward Scissorhands star joked that he had "killed his dogs and ate them" after their removal was ordered. He also suggested that his doggie BBQ was "under direct orders from some kind of sweaty big-gutted man from Australia." The statement was an obvious reference to Barnaby Joyce, Australia's minister for agriculture who was quite vocal about the star's situation, even saying that Depp's two pups should "bugger off back to the United States."
The entire situation seemed silly at the time, but it flooded the press, particularly because the star just completely ignored normal protocol. The pups were clearly seen roaming around Depp's Australian residence, and the actor received a three-day warning to remove the dogs. Barnaby Joyce was unamused by the situation, taking stabs at the actor for not following the rules that every other person who enters the country must adhere too. But despite Joyce's clear dismissal of giving the two-time winning 'sexiest man alive' any special treatment, fans rallied to the celebrity's side, and even created a Change.org petition to help save Boo and Pistol.
After the event, Johnny Depp and wife Amber Heard decided to boycott the country all together. Heart told Australia's Sunrise TV show:
The two could have easily been unaware of the laws that Australia had on bringing in domestic pets. Or maybe they did just choose to ignore it, because of their celebrity stature. Either way, it looks like both were mostly unhappy with the way the situation was handled, and how far a 'certain politician' took it in blasting his opinions of the matter all over the news.
Your Daily Blend of Entertainment News
Your Daily Blend of Entertainment News
Thank you for signing up to CinemaBlend. You will receive a verification email shortly.
There was a problem. Please refresh the page and try again.