Meet Jamie Dornan: 10 Facts About The Fifty Shades of Grey Star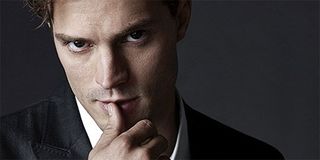 Attention anyone who has read Fifty Shades of Grey: the movie version is coming. In fact the trailer is already here. Who's playing Christian Grey? Jamie Dornan.
Jamie Dornan, born May 1st, 1982, hails from the suburbs of Belfast, North Ireland. He grew up the grandson of |Methodist preachers, and his mother passed away when Jamie was only 16. After attending high school at Methodist College in Belfast, where he was not only an athlete but involved in acting, he went to Tesside University. After dropping out and trying a few things, Dornan found his way into the acting field and is really taking off.
But those facts are just statistics. Who is Dornan do Fifty Shades of Grey justice? Find out with these 10 amazing facts about future heartthrob Jamie Dornan.
He Used To Be In a Band
Dornan was once part of a folk group called Sons of Jim. While the group may have split back in 2008, they enjoyed some pretty awesome successes in the past. In fact, they opened for singer KT Tunstall, you know the singer of that catchy tune, "Cherry Tree," and other hits that were on rotation a few years back. Who knows how many current fans may have seen him years before he hit it big in film?
Jamie and fellow band mate David Alexander may not make music anymore, but a lot of their tunes live on on YouTube and across the web. If you're into folk, it's definitely worth a listen or two. Dornan's singing is actually not too shabby and I bet he could have hit it big in the music industry just like the film one. But I think his fans agree that they love seeing him on the silver screen
He Dated Kiera Knightely
Jamie used to date actress Kiera Knightely, probably best known for the Pirates of the Carribean movies and countless other hits. Judging from the photos, the two seemed happy when they were together. The former couple dated from 2003 to 2005 at the height of Knightely's swashbuckling days. This was his first real taste at fame and how the paparazzi treat celebrities on a daily basis.
In fact, in an interview with The Daily Telegraph , Jamie Dornan recounted how horrible the press were to the pair during their two year relationship. While the couple didn't last more than twenty four months, perhaps dealing with the press will help prepare him to star in a film whose book series has sold upwards of 90 million copies. There will definitely be some adoring "fans," and photographers to dodge in the coming months.
He's A Former Underwear Model
Jamie Dornan isn't just an up and coming actor, he has strutted his stuff as an underwear model for years. The Irish beau modeled for comfy underwear an stylish clothes giant Calvin Kline. He also used to pose for Armani and Dior, making him a true high fashion model. There are a ton of photos on the internet of his modeling days, so fans have plenty of eye candy to feast on.
Interestingly, Dornan didn't even really enjoy modeling that much. Even though he's got a pretty killer body, he told E! Online that he still feels like the skinny kid he was back in high school. I think it's pretty clear to all his fans out there that he is definitely not a skinny, awkward teen anymore but a hunky guy they can't wait to see more of in the role of Christian Grey.
His Big Break Was Marie Antoinette
In 2006, Jamie appeared in the Sofia Copolla film Marie Antoinette alongside Kirsten Dunst. The movie, which loosely follows the life of the French queen, has a pretty strong cult following in the nearly decade after it's release. Dornan played the role of Count Axel von Fersen , the French man Antoinette has a steamy affair with. The film definitely shows this affair in a pretty big way and got Dornan noticed.
Copolla must have seen his potential way back at the beginning to give him such an interesting role.
He's Been On The Small Screen A Lot
While Dornan may be getting a lot of attention about his upcoming role in Fifty Shades of Grey, he's already been in millions of homes on two very successful television shows. In 2011, he played Sheriff Graham on the ABC hit series, Once Upon A Time. After his character was killed off, he triumphantly returned as the Huntsman to remain a series regular.
In a Northern Irish drama titled The Fall, Jamie plays a serial killer on the loose in Belfast. Gillian Anderson of X-Files fame stars alongside him in the creepy series. Not only does the show meet your fix for blood and violence, but gives Dornan the chance to really show off his acting chops.The show was renewed during the middle of it's first season and is a huge hit among fans in the United Kingdom. It is very interesting to see him play a villain and a hero, and wonder how that will translate to his new role in Fifty Shades of Grey
He's A Married Dad
I hate to break it to anyone drooling over Jamie, but he's already taken. Dornan is married to singer-songwriter Amelia Warner. The couple was married in April of 2013 at a country home in England. Warner is no stranger to the limelight herself. She performs music under the stage name Slow Moving Millie, and has been in several movies including Aeon Flux and Stoned. Before the love birds settled down, she dated Colin Ferrel, another Irish actor.
Just two months after the nuptials, Amelia and Jamie announced they were expecting a little bundle of joy. In November 2013, their daughter came into the world to two very beautiful parents. One interesting thing to note is that Dornan and Warner have not made the name of their child public. Whatever they call their little girl, I'm sure that it's a fitting name for a child with two artistically minded parents.
He Wasn't The First Choice for Grey
By now, fans of the series are well aware that Jamie Dornan was not the original choice for the character of Christian Grey. Charlie Hunnam was originally slated to play the role, and announced just a month after he was chosen that he would be declining the role. The Sons of Anarchy actor said that his television shooting schedule clashed too much with the filming of the flick.
That's where Jamie comes in to save the day. His original audition made it through the first round of casting, but he hadn't had a face to face chance to show his skills. Once Hunnam was out of the picture, Dornan was flown to Los Angeles for a grueling day long audition. After he proved he was right for the role, auditioning with the already casted Dakota Johnson, he locked in his role in what will likely be a blockbuster movie.
He's Used To Play Rugby
If you've ever watched a rugby scrimmage, you understand how violent and brutal they can get. Jamie is no stranger to this sport, at all. In fact, during his college days played for the Belfast Harlequins, a small club team in his home town. He was so into the sport that he dropped out of college to initially focus on playing more rugby and had hoped to turn pro.
So why didn't Jamie keep pursuing rugby if he loved it so much? The answer is pretty vague, but things just didn't work out in the end. After he quit the sport and moved to London, he had hoped to pursue acting school, but instead began working at a pub. It's one of those stories where sometimes it takes a lot of failures to find success and Dornan has certainly found the field where he excels.
His Twitter Feed Is Hilarious
For most of us, our Twitter and social media accounts are a place to vent frustrations and share silly photos. Jamie Dornan's feed on Twitter is just that. And while he doesn't update it as often as I wish he would, there are a ton of gems that are sprinkled throughout the tweets. For example:
Dornan also has an Instagram account, which is also not updated too frequently but is worth checking out. It features not only promotional photos for his work, but more silly photos. It's obvious this chap has a great sense of humor and doesn't take himself too seriously. Take a look at the account on your smart devices at JamieDornan1 . And if you just can't get enough cute photos and facts about the Irish beau, there are plenty of awesome fan sites to check out..
His New Mini-Series Looks Amazing
If you're into historical romances and adventurers, Jamie's new mini series project may just be your cup of tea. The series, New Worlds, is set in England and Massachusetts during the colonial period. Dornan plays a young man named Abe Goffe, who is determined to see England become an actual republic. Other characters set in the American Colonies face trying to become free from the power of the English government all at the same time.
The series was produced by BBC's Channel 4 and though it may not follow history perfectly, it definitely is worth a watch. If you're lucky enough to live in the UK, you can hop onto the series's website and tune in on demand. Hopefully my favorite imported channel, BBC America, will show it soon. Otherwise you can definitely find clips, videos and interviews and more on the web from the show. All this new exposure in film and television will surely bring more of Dornan's handsome face to all of us very soon.
Your Daily Blend of Entertainment News