Miles Teller: 8 Things You Should Know About The Fantastic Four Star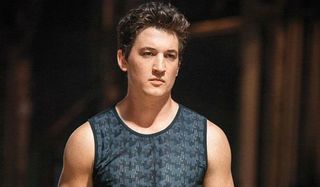 Miles Teller is starting to pop up everywhere. Whether it be his hilarious demeanor in interviews, or his serious acting chops in film, there have been an increasing number of instances that have allowed him to win over fans. After graduating drama school in 2009, the 28-year-old actor was hungry for a successful acting career, which in little time, he started to achieve.
After playing sidekicks and teenagers in films such as Divergent, The Spectacular Now, and finally his critically acclaimed role in Oscar-nominated Whiplash, Teller finally scored his deserved adult lead in upcoming boxing biopic Bleed for This. Now the young star is going to break into the bigger franchise market, as he takes lead as Reed Richards a.k.a. Mr. Fantastic in the upcoming reboot of Fantastic Four. His name is starting to hold serious weight, and if you don't know him quite that well yet, here are 8 things you need to know about Miles Teller.
He Actually Knows How To Play The Drums
Miles Teller has been playing music his whole life. He told Elle Magazine that he'd played piano and saxophone his whole life. But when it came to drums, the actor opened up to Rolling Stone, claiming he hadn't really taken the instrument quite as seriously, and played in both his church choir and a band called the Mutes. So for Whiplash, Teller went through as intense of a drum regimen as his character's. He told the publication:
He Started Acting Because His Drama Teacher Was Hot
Miles Teller lived an average, popular teenager's life, filled with shenanigans and womanizing. It wasn't until he noticed that his high school's new drama teacher was actually pretty hot, that he decided to audition for a play. He told RS that he auditioned for a production of Footloose and was cast as the role of Willard. When he finally got his first onstage laugh, he was hooked, and ended up pursuing acting even further. He did a summer program in New York, decided to apply to drama school, and he ended up getting into New York University's Tisch School of the Arts.
He Got In A Horrible Car Accident And It Affected His Roles
Miles Teller was feeling a whole lot lucky after his quick succeed into the world of acting. But then, he hit a serious low point. Coming home from a concert with a friend, Teller was a part of a terrible car accident, which landed him with a broken wrist, 20 staples, and some noticeable scarring. The actor told RS that it was so bad, it even affected his early auditioning:
His First Role Opposite Nicole Kidman Was 'Just Too Real'
After having trouble getting roles with his scarring after the accident, Miles Teller had reached a low point. That was until he auditioned for the role of a high school student who accidentally kills a 4-year-old boy with his car in Rabbit Hole. Not only did the scars fit the character, but having just survived a near-death car accident, Teller was emotionally vulnerable to the situation, a quality that helped him score the role in his film debut. Director John Cameron Mitchell recalled the audition to LA Times:
He Takes His Job Very Seriously
Miles Teller is young. Not as young as some of the roles he's been portraying lately. The 28-year-old tended to play high school students up until his past couple roles. But, though Teller is young, he takes his acting career very seriously. Chatting with the NY Times, Teller admitted that most actors of his generation aren't proper actors. That's not him. He said:
He Doesn't Chose Roles For Financial Reasons
Despite now having two franchise films under his belt, Miles Teller stands by the fact that he does not chose any roles for money. The young actor had recently stated he was not satisfied with his role in the Divergent franchise, which he caught a lot of flak on. But, Teller stands by his statement. He told the NY Times that the reason he wanted that job was he had always wanted to work with director Neil Berger and star of the series Shailene Woodley. It paid off as he later co-starred with Woodley in Spectacular Now.
He Completely Transformed For His Bleed For This Role
When finally being offered an adult leading role in the film Bleed For This about a world champion lightweight boxer, Miles Teller was unsure he could fit the part. On The Tonight Show Starring Jimmy Fallon, Teller joked that he had actually asked when offered the part "Well I can't grow a mustache, I'm not in very good shape… Are you sure?" Fallon continued to show a before-and-after photo on the show. Teller had apparently dropped about 20 pounds and trained excessively for his Scorsese-produced biopic about boxer Vinny Pazienza.
His Dream Project Is To Play Young Elvis
Miles Teller has said a few times before that his dream is to play a young Elvis Presley. In an interview with Moviefone, the young actor even noted which director he'd like to see work on the project with him. He continued:
Your Daily Blend of Entertainment News
Your Daily Blend of Entertainment News
Thank you for signing up to CinemaBlend. You will receive a verification email shortly.
There was a problem. Please refresh the page and try again.