Spider-man Impersonator Rescues Couple From Burning Car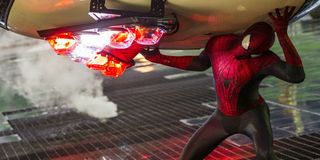 Everyday someone does something extraordinary for someone else. Whether it be a stranger or a best friend, acts of kindness go a long way. And sometimes those acts of kindness can save a person's life. Particularly, when Spider-man gets involved. A Spider-man impersonator was on his way to a children's birthday party, when he was given the chance to be a real-life hero, to which he ended up saving a couple and their three-year-old daughter.
According to a local UK newspaper, Eastbound Herald, a pregnant woman was rushing her partner to the hospital when her car suddenly burst into flames. Spider-man's spidey senses must have been tingling, because when the family was stranded and in desperate need of help on the side of the road, a man dressed in a full-body Spider-man suit came to the rescue. The woman was rushing to the hospital with her partner after he had accidentally cut off his finger in a lawnmower. But their car started acting up and in the heat of the moment, children's entertainer Tom Roche, arrived at the scene. The man in the Spidey suit was heading to work at a children's birthday party.
Roche aka Spider-man was driving to the party when the woman drove by him. He and his girlfriend were trying to flag them down to tell them to pull over and get away from the car. He told the newspaper:
Once the couple pulled over, Spidey and his girl friend (who unfortunately isn't named Gwen Stacy) called the family over to his car, and immediately helped them out of the situation, and went straight for the hospital. Spidey made his way to the local hospital where they successfully reattached the man's finger.
The couple is still unclear why the fire started in their Land Rover, but are incredibly thankful that Spider-man came to their rescue. Just a day on the job for the web-slinging hero.
Your Daily Blend of Entertainment News
Thank you for signing up to CinemaBlend. You will receive a verification email shortly.
There was a problem. Please refresh the page and try again.