Stephen Amell Really Hates M. Night Shyamalan's Publicist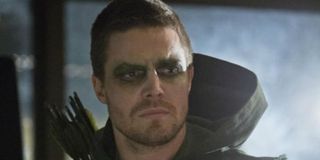 If you're a fan of Stephen Amell, you've most definitely learned by now that the actor is very comfortable sharing with his fans. He's not shy when it comes to teasing aspects of his show, talking smack about certain WWE fighters, and just expressing his day to day thoughts and opinions. So while we're used to Amell speaking his mind, this still came as quite the surprise:
Stephen Amell, widely known for his role as Oliver Queen in the hit CW series Arrow was in attendance at San Diego Comic-Con this weekend promoting his fan favorite show when something must have gone wrong. Of course he enjoyed himself at the event, and from the SDCC footage, he seemed to be in good spirits. But there was one particular person who got to him so bad, that he had to call her out— M. Night Shyamalan's publicist.
Now here's the thing, Amell doesn't call this woman an asshole, he calls her "an all-timer level asshole." There lies some serious beef. While the actor wouldn't go into any further detail about the altercation (and you better believe fans were begging on Twitter), we can't help but wonder how serious of a matter this must've been to warrant such an elicit response. Was it something as simple as Amell not getting a screening ticket to see Shyamalan's SDCC screening of The Visit, or was it something much more personal?
Either way, M. Night Shyamalan's publicist might want to be careful with who she's pissing off. Amell may only be Arrow on screen, but that doesn't mean he doesn't have the training to kick some ass. We already know he has no problem getting in the ring against a professional wrestler. What's a publicist going to to do?
Your Daily Blend of Entertainment News