Tina Fey And Amy Poehler Hammer Bill Cosby During Golden Globes Monologue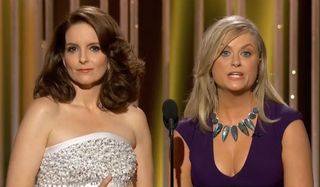 It seems every day there is a new story popping up about rape allegations against Bill Cosby. Going in to the Golden Globes, we knew it would be a hot topic, and a definite joke laid out by the two female comedians. Amy Poehler and Tina Fey didn't wait long to take a stab at the prolific comedian and TV icon. Take a look at a Vine of one of the jokes below.
Tina Fey and Amy Poehler told us they'd have a few Bill Cosby jokes up their sleeves. And man they weren't kidding. The vine above posted by Fansided above was in Poehler's progression of describing the film Into The Woods. It started describing the different fairy tale characters in the film, how Cinderella ran away from her prince, Rapunzel was thrown from a tower, and then Poehler adds in the joke above:
But that wasn't all. Fey put her two cents into the joke, telling the audience about how Cosby has recently spoken out about the allegations. Impersonating his voice, Fey jokes, and then Poehler does her own Cosby impression to the following phrase:
The audience was stunned, and you could see as the camera scanned the crowd that people were uncomfortable and unsure to laugh. Because even though you could tell that people were muffling their own laughs, they didn't want to let it out. You see in the audience Meryl Streep putting her head down, Jessica Chastain with her mouth-dropped, and George Clooney hysterically laughing. There were mixed reactions, for sure. We knew it would happen though and we wouldn't be surprised to hear more later in the awards show.
Expect some more hysterical and unsettling jokes from the dynamic duo as the show progresses. And keep updated on the winners in both film and TV at their respective Cinema Blend pages.
Your Daily Blend of Entertainment News
Thank you for signing up to CinemaBlend. You will receive a verification email shortly.
There was a problem. Please refresh the page and try again.