Watch Tom Hanks Dance and Lip Sync Through An Adorable Music Video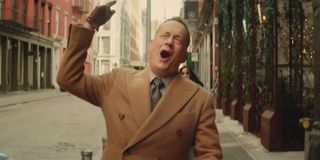 Remember that insanely popular song that swept the nation about a girl who thought it was crazy, but gave her number away anyways, and she said "Call Me, Maybe". Well guess what? The singer, Carly Rae Jepsen, just released her latest single entitled "I Really Like You", and while the name and idea of the pop song may not attract many outside of the teeny-bopper Summer single land, the music video is delightfully hilarious for us movie fans, all because it stars this really cool guy named Tom Hanks. Yes, you read that correctly, don't believe me? Take a look:
Tom Hanks wakes up on the right side of the bed, because upon his early rise, the actor immediately starts bopping his head, and lip-syncing the words to this catchy pop song. He goes through the motions of a normal day, talking to himself about "late night watching television" and questioning love. But then, the chorus comes, along with Tom Hanks randomly walking down the streets of what looks like SoHo in Manhattan, and pointing to random pedestrians telling them, "I really really really really really like you!" Oh and he goes for the high note (or higher note in this particular singer's case).
The video is pretty hysterical though even if just for the young singer's voice over the legendary Tom Hanks. I'm still left questioning how and why this happened, but I'm not upset about it either. And Hanks looks like he "really really really really " is having some fun, so who are we to question his motives. Also, there are some important things learned from this video about the actor. For instance, he uses the 'monkey with his eyes covered' emoji to play innocent. We've all been there, it's a really good, cute emoji to help you out of tough situations.
And the day continues, complete with some Tinder swipes, Hanks admitting to Jepsen that he's pregnant, and finally a big dance-off at the end, where yes Tom Hanks shows off some sweet moves. During the dance-off Justin Bieber shows face, after creepily sneaking up from the back of the dance riot, and tries to take the spotlight. But the real fun is being had by Hanks and Jepsen, and Biebs is stuck playing third-wheel.
All in all, this video just proves that Tom Hanks is an adorable human, and so with the times. You can see Hanks on the big screen this year in Bridge of Spies, A Hologram for the King and Ithaca.
Your Daily Blend of Entertainment News