Watch Jennifer Lawrence And Amy Schumer Dance Together Atop Billy Joel's Piano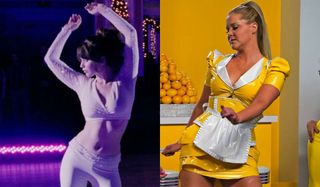 Jennifer Lawrence and Amy Schumer took center stage last night at Wrigley Field in Chicago when the dynamic duo danced atop a grand piano with none other than Billy Joel at the seat. Joel, who is currently on a massive tour was at the piano playing his 1983 hit "Uptown Girl" when the ladies showed up, surprising the thousands of concert attendees. Take a look:
Amy Schumer has had plenty of practice dancing to Joel's classic hit. The actress can be seen showing off some similar moves in her latest Judd Apatow-directed film Trainwreck. But for Jennifer Lawrence, this was a new set of moves learned specifically for the surprise dance session. And boy does it look like the crew had some fun preparing for the ultimate memorable moment.
Lately, Schumer and Lawrence have been plastering their newfound friendship all over social media. The two seem like a match made in comedic heaven, and have already decided to join hands in a comedy screenplay. Just a few days ago, Lawrence let the news slip that a collaboration with the comedian was underway, with already 100 pages of screenplay currently written. Lawrence wouldn't spill too many beans, but did at least confirm that the dynamic duo were playing sisters in the film.
The two's friendship is exactly what we needed, and a collaboration could prove for some incredible work. But, apparently, Schumer and Lawrence only recently started chatting about a month ago. It all started when Lawrence saw Schumer's first feature length project, which she wrote and starred in, and Lawrence became her ultimate fangirl. It's really no surprise considering Lawrence's silly tendencies and hysterical demeanor that she would react to Trainwreck. Lawrence has described the two has "creatively made for eachother" and we couldn't agree more. After seeing the duo bust out the moves and get chummy with Mr. Billy Joel, we can't wait to see what kind of fun a movie collaboration will generate.
Your Daily Blend of Entertainment News
Thank you for signing up to CinemaBlend. You will receive a verification email shortly.
There was a problem. Please refresh the page and try again.