Watch Pearl Jam Rock Out To Frozen's Let It Go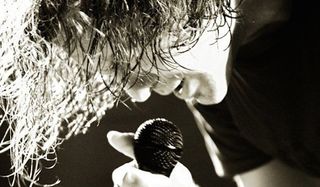 Just when we thought we'd finally heard the last of Frozen's "Let it Go," Pearl Jam lead singer Eddie Vedder brings it back by belting out a few lines from the popular song during a concert in Milan. As you can see int he video above, Vedder worked the song into a performance of the band's 1993 song "Daughter." Vedder doesn't quite hit all of the notes of this vocally challenging song, but major points for effort. Don't call him Daughter, but I guess it's ok to call him Elsa for a little while.
Mashable posted the clip above, along with this longer segment, which includes Pearl Jam's performance of "Just Breathe" and "Daughter." It's well worth checking out, not only because it serves as a much better demonstration of Eddie Vedder's vocal abilities, but it's also cool to see how he works "Let it Go" into the "Daughter" performance.
While Pearl Jam's brief rendition of "Let it Go" is the one that's trending right now, it certainly isn't the first alternate version of the Frozen song out there. Covers of the tune were popping up all over the place earlier this year, including one performed in various Disney character voices, one sung in the style of various pop stars, and a more-official version sung in different languages. And then, of course, there's the various Idina Menzel-sung versions, including the Oscar-winning official version of the song, which appears in the celebrated Disney animated movie.
Your Daily Blend of Entertainment News
Thank you for signing up to CinemaBlend. You will receive a verification email shortly.
There was a problem. Please refresh the page and try again.