Tom Hanks Could Reunite With Meg Ryan In Ithaca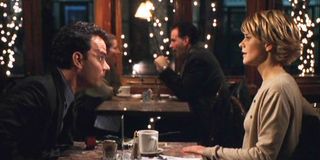 Joe Versus The Volcano. Sleepless In Seattle. You've Got Mail. Ithaca?
It has been 16 years since Meg Ryan and Tom Hanks last teamed up and fell in love, but now the pair could reunite for Ryan's directorial debut, Ithaca. But don't start holding your breath for breathless romance.
THR says that Tom Hanks is now in talks to take on a small, cameo role in Ithaca. Aside from helming the film, which is a World War II drama, Meg Ryan will also appear in the role of a widowed mother, Mrs. Macauley. At this time, the production, which is set to shoot next month in Virginia, is not revealing what part Hanks might play. He has an interesting in with the producers given that he is one of them.
Under his Playtone banner, Tom Hanks is executive producing Ithaca, alongside his partner Gary Goetzman. Janet Brenner (The Last Five Years) and Laura Ivey (The Butterfly Effect 3: Revelations) are on board as producers as well, and Band of Brothers scribe Erik Jendresen penned Ithaca's adapted screenplay. The film is based on William Saroyan's classic 1943 novel The Human Comedy.
Set in the small upstate New York town its named for, Ithaca centers on a 14-year-old boy named Homer Macauley, whose dream is to be the greatest and fastest bicycle telegraph messenger the world has ever known. The messages he carries all around his hometown are filled with love and pain that reflect how World War II has impacted the home front. On top of his responsibilities as a messenger, Homer also has important duties at home. His father is dead, and his older brother has gone off to war, so he must help his mother in providing for his older sister and caring for his four-year-old brother, Ulysses.
Should Hanks sign on, he'd be joining a cast that includes not only Meg Ryan as Homer's mother, but also Jack Quaid, Melanie Griffith, Sam Shepard, Lois Robbins, and Alex Neustaedter. Of course Jack Quaid is Ryan's son, and will play the soldier brother in Ithaca, a role he should be well prepared for having played the merciless Marvel in The Hunger Games. Melanie Griffith's part is unknown at this point. Sam Shepard is set for the role of Willie Grogan, while Lois Robbins will play Mrs. Beaufrere. Alex Neustaedter will front the film as young Homer. The child actor made his film debut back in 2009 in the little-known horror movie Animal Farm, which co-starred WWE star Chris Jericho. Last year, Neustaedter made an appearance in Agents of S.H.I.E.L.D., but Ithaca could prove the project that launches him.
With Ithaca looking to lens next month, and Hanks already on board as producer, it seems all but certain that Ithaca will boast a Hanks and Ryan reunion.
Your Daily Blend of Entertainment News
Staff writer at CinemaBlend.