What Stan Lee Thinks Will Happen To The Marvel Industry When He Dies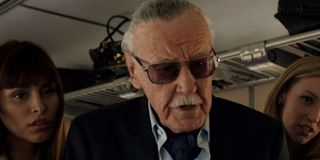 Unfortunately, Marvel fans out there have to come to the realization sooner rather than later that Stan Lee, the man, the comic book legend, is getting old. The now 92-year-old comic book writer, editor, actor, and all-around hilarious character, has had quite the impact on the comic book industry. But at some point, we are going to have to say our final goodbyes. And what does Mr. Lee think about that? Well, he's not too worried about it.
During his panel at the Edmonton Comic and Entertainment Expo this weekend, one Marvel fan took a dark turn in his questioning of the icon. It is a question many of us have probably thought about, what with Stan Lee's frequent cameos in Marvel movies and quick wit when fielding questions about the growth of the industry in general. But, not many of us would have the guts to ask him: what will happen to the Marvel industry after Lee dies? Well, first off, Stan Lee quickly responded that he certainly isn't "gonna give a hoot" after he is dead, but then went on to give a straight, honest answer:
It's nice to hear Lee give such praise to his comic book successors. Most of these men and women currently penning modern portrayals draw inspiration from the classics that Stan Lee, Jack Kirby and Steve Ditko created. It's also nice to hear Stan Lee take a break from some of his more snarky, witty answers, to actually show us that the comic book industry already is doing fine without him, so there's not much to worry about.
Though Stan Lee hasn't penned anything new in recent years, his cameos have certainly been a welcomed smile during many of the Marvel films. Lee himself admitted that "we may miss my cameos". But not to worry, with current technology bringing to life pop stars such as Michael Jackson, the comic book legend also joked that a holographic Stan Lee is definitely a possibility.
Your Daily Blend of Entertainment News
Thank you for signing up to CinemaBlend. You will receive a verification email shortly.
There was a problem. Please refresh the page and try again.