Why Russell Brand Decided To Skip His Own Movie Premiere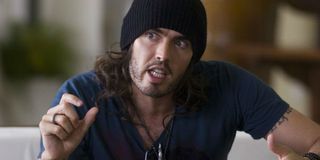 Russell Brand is certainly not one for silence. Whether it be his political activism or his stand-up comedy, Brand is a strong voice that is undoubtedly heard. And this year, as a new documentary about the life of the comic, actor and author will premiere at the South by Southwest Film Festival, one would expect to see Brand adding in his own two cents at the screening. But, Brand has just released a statement that confirms he will not be attending the premiere of the film for very specific reasons.
Brand wrote a detailed statement on his personal website explaining his reasoning behind skipping out on the debut. He wrote:
The documentary about the life and times of Russell Brand entitled, BRAND: A Second Coming includes a closer look into the evolution of the star from British stand-up comic to Hollywood star to marrying Katy Perry to his current political activist role. In his letter, Brand explains that the idea of the documentary first came 7 years ago when he was "a newly recovering junkie sinking [his] teeth into the succulent transatlantic fame". The documentary went through a number of directors until Ondi Timoner, director of Dig! finally stuck. This pushed Brand to give the reigns to someone else, dropping his own "mad ambition" to direct and star, but in doing so, he did not realize that he became the subject of a biography which was "oddly intrusive", and for that reason Brand finds watching the movie too painful.
Brand affirmed that the film is still great, but his reasons for not taking part in the debut are sound:
Brand was sure to apologize to the organizers of SXSW and for those responsible for the keynote talk that he was supposed to do, but from his heartfelt note, it seems that Brand is pretty earnest, and with such a difficult past the film is probably a unnecessary reminder, especially on the big screen with a whole slew of press awaiting his reaction.
Your Daily Blend of Entertainment News
Thank you for signing up to CinemaBlend. You will receive a verification email shortly.
There was a problem. Please refresh the page and try again.