The Wonder Years' Danica McKellar Is Teaching Her Baby The Qaudratic Formula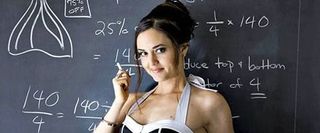 The Wonder Years' Danica McKellar really likes math. She found the niche after ending her stint on the popular coming-of-age show, eventually even publishing several math books. Her most recent title, Girls Get Curves: Geometry Takes Shape, was written to help young women get pumped about shapes and numbers. Now a new mommy, McKeller is hoping to inspire a love for math in her own child.
McKellar recently came out to talk about her 23-month-old boy's current math abilities. Apparently, little Draco likes to name geometric shapes and count the number of toes on his feet, although McKellar recently told People, his numbers don't always add up.
Next on her list, however, the mom plans to work with Draco until he has some formulas down pat. If she manages what she is attempting, her little tyke will be way ahead of the linear curve.
McKeller most recently made headlines when she filed for divorce from her longterm partner, Mike Verta. Despite the recent stressors, it is good to see the 37-year-old mom so keenly devoted to her little one. Pop Blend would like to wish her the best in her quadratic equation efforts. A mom with brains and the willingness to put in time certainly deserves it.
Your Daily Blend of Entertainment News