Young Anakin Skywalker Actor Arrested After Crazy Car Chase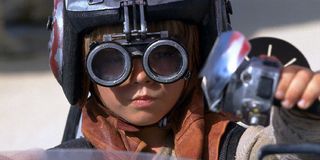 When you've spent time pod racing, it comes as no surprise that getting behind the wheel of a car can get pretty boring. That being said, is there any way to make mundane driving a bit more fun? Well Jake Lloyd, the actor who played young Anakin Skywalker in Star Wars: The Phantom Menace has certainly found a way. How so? Oh, just by inciting a crazy car chase with the police.
According to TMZ the actor was driving in Charleston, South Carolina when then things got out of control. At first the Sheriff's deputies began pursuing the actor, but Lloyd was not about to make their jobs easy. He continued to drive, and the chase was underway. This went on for miles, all the way into another county while Lloyd passed cars on the double yellow line and drove recklessly at high speeds. Eventually young Anakin lost control, and the car ran off the road, through a fence and into a wooded area where it struck a few trees. Lloyd was then arrested for reckless driving, failure to stop, resisting arrest and driving without a license. The child star is still in custody.
Lloyd has certainly not looked back after portraying Anakin Skywalker in the first Star Wars prequel. Back in 2012 the now 26-year-old actor opened up in a telling interview with The Daily Mail about why he quit acting. He claimed that starring in the Star Wars franchise at a mere 8 years old turned his life into a 'living hell'. He was so haunted by the movie that he vowed to never act again. Apparently he had so much anger towards George Lucas and the franchise that he destroyed all of his Star Wars memorabilia. But despite all the hatred he had for his role, it sounds like his need for speed has carried on.
Though Lloyd stuck to his word, and did not carry on with acting, the internet promptly reacted to this fitting arrest, with an abundance of pod-racing jokes. For the most part everyone agrees, we hope he was screaming "Now this is podracing" as he sped through traffic.
Your Daily Blend of Entertainment News
Thank you for signing up to CinemaBlend. You will receive a verification email shortly.
There was a problem. Please refresh the page and try again.