Star Wars' Andy Serkis Talks Being 'Gutted' Over Snoke's Death In The Last Jedi, And Whether He'd Reprise The Character
Pour one out for the Supreme Leader.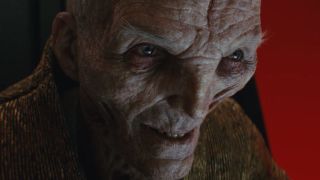 (Image credit: Lucasfilm)
Although Emperor Palpatine was revealed to still be alive in Star Wars: The Rise of Skywalker, when the Sequel Trilogy started in 2015 with The Force Awakens, it was Andy Serkis' Supreme Leader Snoke who was pulling the strings of The First Order. While it initially seemed like Snoke would be the big bad for this era of the Star Wars movies, the towering antagonist was instead slain by his apprentice, Kylo Ren, in The Last Jedi. A little over five years after that movie's release, Serkis talked about how "gutted" he was over Snoke's fate and whether he's game to reprise the character someday.
While talking about his newest movie, Luther: The Fallen Sun, with GQ, Andy Serkis discussed his time as Supreme Leader Snoke, recalling how the director changeover from J.J. Abrams on The Force Awakens to Rian Johnson on The Last Jedi resulted in Snoke being unceremoniously being sliced in half. As Serkis explained:
With Snoke only appearing in a few scenes as a hologram in The Force Awakens, there was a lot of mystery surrounding the character, so many fans understandably thought his origins would be explored in The Last Jedi and The Rise of Skywalker. Snoke certainly did get more time to shine in the former movie, but when he ordered Kylo Ren to kill the captive Rey, the son of Han Solo and Leia Organa instead used Rey's lightsaber to murder his master and install himself as The First Order's new Supreme Leader. By The Rise of Skywalker, Snoke was revealed to have been a clone created by Palpatine to lure Kylo to the dark side.
Several months after The Last Jedi came out, Andy Serkis said that while he knew Snoke's death was an important scene, he was nonetheless "shocked" by what went down. Then in 2021, Serkis said he felt "devastated" when reading what happened to Snoke in The Last Jedi's script, which he reaffirmed in this more recent interview. Still, if the opportunity came for Serkis to play Snoke at an earlier point in his lifespan, the actor would be game for this. In his words:
Fortunately for Andy Serkis, he's gotten to leave his mark on the Star Wars franchise in more ways than one. Late last year, he appeared in three episodes of Andor as Kino Loy, a prisoner at the Imperial facility where Diego Luna's Cassian Andor was incarcerated. Serkis was initially concerned by taking another Star Wars role since he didn't want to "compound any further confusion about Snoke theories" by adding another character into the mix, but it worked out in the end, with Serkis' performance being one of the main praised elements in Andor, which Disney+ subscribers can easily watch.
Still, should it be announced someday that Andy Serkis will reprise Snoke at an earlier point in his life, be it in a live-action project or something animated, we'll let you know. Until then, Star Wars fans can can look forward to The Mandalorian Season 3 premiering tomorrow, March 1, on Disney+.
Your Daily Blend of Entertainment News
Connoisseur of Marvel, DC, Star Wars, John Wick, MonsterVerse and Doctor Who lore. He's aware he looks like Harry Potter and Clark Kent.