Why Simon Pegg Thinks About His Work In Star Wars And Star Trek When He Needs A Pick Me Up
By Jessica Rawden published
Yeah--but does he think about Star Wars or Star Trek first?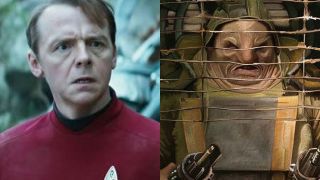 (Image credit: Paramount and Disney/Lucasfilm)
There are some actors who don't particularly enjoy social media. There are other actors who seem completely primed for it. Such was the case for Simon Pegg, who joined Instagram a little over a year ago. He's been fond on social of reminding his fanbase he is, in fact, in a lot of really great franchises, including being a part of both the Star Trek and Star Wars universes. During an interview earlier this year he spoke about working on both the Millennium Falcon and the starship Enterprise and how that always helps him when he needs a pick me up.
Speaking to Audible's Dermot O'Leary earlier this year, Simon Pegg and the host talked about their personal experiences with the iconic franchises, in particular Star Wars, though the actor gleefully noted he uses these experiences when he needs "an attaboy." He told Audible UK:
Although Simon Pegg is a lead in the Star Trek universe, playing original franchise character Scotty (in a role that wasn't so easy to say "yes" to right away), it's extremely clear that Star Wars is, in some ways, a series that connects to the child inside of him. Perhaps it's simply because Star Wars is the subject O'Leary brought up, but Pegg also talked about being on the set to play Unkar Plutt -- a much smaller role than he inhabits in the Trek world -- and what that was like, including detailing the Stormtroopers just wandering around.
It's interesting that Simon Pegg is at this point in his career. A few years back he admitted to being at a point earlier in his career where he was having mind-blowing experiences, including working with Tom Cruise. However, issues with depression and alcohol kept him from being really happy with where he was at. Now, a few years later, it seems like he's able to harness fond memories from some of these huge experiences and use them for good.
Pegg really does crush it in memorable roles. He has a slew of upcoming roles, including in the upcoming Mission: Impossible 7 and 8; he was in Star Wars: Episode VII - The Force Awakens, and then, of course, the three big screen Star Trek movies that Paramount made. (So far, obviously, but let's not get off topic and talk about Star Trek 4). That's not even mentioning The Cornetto trilogy, starting with Shaun of the Dead, a set of movies so notable they have infiltrated other parts of pop culture.By far though, the experience of "owning" the Millennium Falcon seems to be the one that takes the cake, however. That's probably about right. Now, if Simon Pegg were actually hanging out on the wings of airplanes with Tom Cruise, perhaps things would be different...
Amazing Race & Top Chef superfan with a pinch of Disney fairy dust thrown in. If you've created a rom-com I've probably watched it.
Your Daily Blend of Entertainment News
Thank you for signing up to CinemaBlend. You will receive a verification email shortly.
There was a problem. Please refresh the page and try again.