Last Of Us Co-Creator Reveals Nick Offerman Wasn't The First Choice For Bill, Plus The Importance Of Telling An Authentic Love Story
It's crazy to think Bill almost wasn't played by Nick Offerman.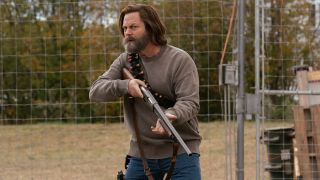 (Image credit: Photograph by Liane Hentscher/HBO)
My first thought while watching Episode 3 of The Last of Us, was 'Oh my goodness, the casting is perfect, Nick Offerman was born to play Bill.' So, it came as a legitimate shock to me, and I'd assume many others, when we found out the actor known for his role as Ron Swanson wasn't the co-creator Craig Mazin's first choice for one of The Last of Us' groundbreaking queer characters. And while the actor they originally had in mind would have been amazing, the showrunner discussed why Offerman was an amazing choice, and how motivated the cast and creatives were to tell an authentic love story with Bill and Frank.
While talking about Episode 3, one of the biggest changes they made from the video game, and how they cast Nick Offerman and Murray Bartlett, Craig Mazin noted that the Parks and Recreation cast member was not who they originally had in mind for Bill, saying on The Last of Us Podcast:
It totally makes sense that Mazin had O'Neill in mind first, considering they had worked closely together on his last show Chernobyl. However, due to schedule conflicts because the actor was busy playing Blackbeard's righthand man Israel on Our Flag Means Death he wasn't able to do it.
While I'm sure O'Neill would have been amazing as Bill, I think Nick Offerman was the perfect person to help bring this beautiful love story to life. However, hiring the comedic actor did come with a lot of careful consideration, because he is a straight man who would be playing a gay man. Mazin spoke about the importance of representation on the show, and how that played into casting their Bill, saying:
Mazin went on to explain there were many gay middle-aged men working on this production, including Murray Bartlett, who played Frank. He also explained that having all these men on set to help guide the story, was extremely helpful in helping the show tell an authentic love story.
Clearly, the work they did with Episode 3 was done well, because it has received tons of acclaim, and many, many viewers were left balling their eyes out and completely floored by Frank and Bill's story, which is actually different from the game.
Overall, it feels like every decision made for Episode 3, from Offerman and Murrays' casting to changing Bill and Frank's story culminated in a wonderful, beautiful and moving episode of television, that I think audiences will keep thinking about as the 2023 TV schedule continues.
To watch The Last of Us' third episode and Offerman and Murrays' beautiful performances you can do so with an HBO Max subscription. You can also catch new episodes of the video game adaptation every Sunday at 9 p.m. ET on HBO and HBO Max.
Your Daily Blend of Entertainment News
Riley Utley is a Weekend Editor at CinemaBlend. She spent many years working in local journalism across the country writing about art, news and sports. One of her favorite films is When Harry Met Sally and she walks around constantly quoting Ted Lasso.