Pamela, A Love Story: 5 Things To Know Before You Watch The Netflix Pamela Anderson Documentary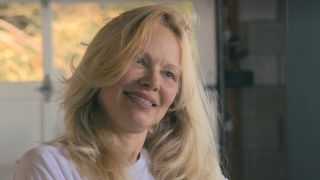 (Image credit: Netflix)
Pamela Anderson is one of the most instantly recognizable celebrities of the past 30 years, especially for those who grew up in the 1990s. With shows like Baywatch, Playboy covers, and the infamous sex tape with former husband Tommy Lee, it was next to impossible to escape the bombshell at the height of her fame. But rarely do we hear Anderson's side of the story, one that helps paint the full pictures of how things went down in her career, as well as personal life.
Well, that all changes with the recently released Netflix documentary, Pamela, a Love Story, which not only revisits the biggest and most consequential moments of Anderson's life and career, but tackles them from her point of view. With honesty, emotion, and at times humor, the unflinching documentary is eye-opening to say the least. Here are a few things you should know before you watch.
Pamela, A Love Story Pieces Together The Life And Career Of The '90s Bombshell
The all-encompassing Pamela, a Love Story pieces together the life and career of Pamela Anderson, as told through her eyes and experiences. All of the major moments are there, but in addition to talking about her time on Baywatch, her extremely public marriage to Tommy Lee, and the various ups and downs that came along with both, the documentary sheds light on Anderson's childhood on the coast of British Columbia.
This exploration of Anderson's early childhood years help give you a better understanding of the person she would become, both the '90s bombshell persona and the rooted and centered person behind the glitz and glamor.
The Documentary Details Several Traumatic Events And How Anderson Overcame Them
Much like controversial 2022 true crime series Pam & Tommy, the new Netflix documentary spends a considerable amount of time focusing on the theft and unauthorized release of Pamela Anderson and Tommy Lee's honeymoon tape, and how it affected the former Baywatch star. But that isn't the only traumatic event that is discussed throughout Pamela, a Love Story, as several difficult moments from Anderson's childhood are chronicled, including an incident with a babysitter that has stuck with her for decades.
Pamela, A Love Story Makes Extensive Use Of Pamela Anderson's Diaries
In addition to featuring interviews with Pamela Anderson, the documentary also makes extensive use of her diaries, going back to her childhood. These incredibly personal and well-written passages provide a tremendous amount of insight into the various stages of Anderson's life and career, and welcome the viewer into her thought process. Incredibly raw, powerful, and emotional, these passages help paint a fuller picture of the person behind the fame.
The Documentary Has A Runtime Just Shy Of Two Hours
Unlike other Netflix celebrity-centric documentaries like the explosive Harry & Meghan, which played out over the course of six one-hour episodes, Pamela, a Love Story is told in one installment. Despite covering practically every aspect of Pamela Anderson's life and career, the documentary is just shy of two hours in length.
Pamela, A Love Story Is Rated TV-MA
If you were planning to watch Pamela, a Love Story with younger audiences, you should probably rethink your decision, as the new Netflix documentary has a lot of explicit content. From mentions of child abuse, domestic abuse, and less-than-child-friendly language, there are a lot of reasons for the documentary's TV-MA rating. And considering Anderson got her start posing for Playboy, please go into it knowing there will be a great deal of nudity.
If all of this sounds interesting to you (or something you think you can handle), you can watch Pamela, a Love Story streaming with an active Netflix subscription. And if you want to know more about other upcoming titles coming to the platform in the next few months, check out our 2023 Netflix movie schedule for all the latest.
Stream Pamela, a Love Story on Netflix. (opens in new tab)
Your Daily Blend of Entertainment News
Philip grew up in Louisiana (not New Orleans) before moving to St. Louis after graduating from Louisiana State University-Shreveport. When he's not writing about movies or television, Philip can be found being chased by his three kids, telling his dogs to stop yelling at the mailman, or yelling about professional wrestling to his wife. If the stars properly align, he will talk about For Love Of The Game being the best baseball movie of all time.