Sounds Like Netflix Made A Big Whoops When It Posted Its New Account Sharing Rule Changes This Week, Fans Are Not Pleased
That's a big oof for Netflix.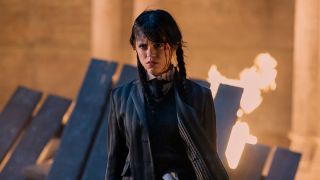 (Image credit: Cr. Vlad Cioplea/Netflix)
Customers are giving Netflix the Wednesday Addams death stare following the news about new account-sharing guidelines. This is because those with a Netflix subscription have been worried for a while about password sharing and the streamer putting limits on it, well it seems like that might become a reality soon. This week it really seemed like limits and guidelines might be announced as Netflix continues to test ways to limit password sharing. And it did announce new guidelines for account sharing, however, now the streamer is backtracking a bit and fans are not pleased.
Subscribers were startled this week when Netflix announced new password-sharing rules that would require users to verify their account through their home wi-fi once a month. It also noted that devices outside the home would be blocked, according to The Streamable.
These rules were not received well by subscribers, to put it lightly, and now Netflix is backtracking a bit. As the article notes, these new password-sharing rules for Netflix were removed from the site on February 1, saying they don't apply in the United States, yet. A spokesperson for the site explained to The Streamable:
However, while these password-sharing rules won't be implemented in the U.S. yet, it is coming. That's because Netflix still plans to announce new guidelines by the end of March.
When these guidelines about wi-fi dropped it made those who are already angry about the streamer's anti-password-sharing initiative even madder, and they let Netflix know. Many fans used a tweet from the platform from 2017, when they posted:
Many retweeted this, with posts claiming the streamer's tweet was quite hypocritical, considering its recent motivation to end password sharing. DGil retweeted the post, noting:
Meanwhile, SianThymes had a similar response, using a video to call out the streamer's new philosophy on password sharing:
Steve Posthumus' tweet was liked by well over 3,000 people, as he criticized Netflix's new guidelines, which the streamer has now taken down. He posted, noting the streamer's resurfaced pro-password-sharting tweet sharing:
Drebae posted after Netflix took the guidelines down and many freaked out, tweeting a humorous video with their caption:
It's clear that Netflix subscribers are not thrilled about the impending password-sharing guidelines. However, it seems like for now those guidelines won't be implemented just yet, and their methods for curbing it might be different than what was posted.
So, while we wait to see what happens next as Netflix figures out how they are going to limit account-sharing, you can check out some of the best movies on Netflix right now and some of the best show's to binge on the legacy streamer. Also, be sure to stay tuned to CinemaBlend as more news about account-sharing guidelines comes out, and Netflix begins to implement them.
Your Daily Blend of Entertainment News
Riley Utley is a Weekend Editor at CinemaBlend. She spent many years working in local journalism across the country writing about art, news and sports. One of her favorite films is When Harry Met Sally and she walks around constantly quoting Ted Lasso.