The Big Brunch: 6 Reasons This HBO Max Original Show Deserves A Second Season
Dan Levy is the best host.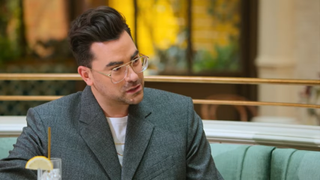 (Image credit: HBO Max)
For those who don't know me, I'm a pretty big fan of food shows, and have been for some time. Whether that be because of my love for cooking, or my passion for cooking movies like Ratatouille, or even 2014's Chef, cooking has always been something I've been drawn to for a long time. And cooking competition shows fall within that realm of me loving to watch people cook. I have seen it all.
There's something about The Big Brunch that stands out to me, and I need more people to understand how amazing this show truly is. Released on HBO Max as an original series, this is a cooking competition show where several cooks compete to win the ultimate prize of $300,000 in order to make their dreams come true, often through brunch-centric meals. Today, I'm going to tell you my reasons why The Big Brunch Season 2 needs to happen.
First Off, Dan Levy Is Awesome As A Host
I'm usually one who couldn't care less about who hosts a cooking competition show. I'm not there for them, I'm there for the good food and the stories behind the chefs – and sometimes, the ridiculous trials that they go through. The only hosts on past shows I've really connected to were Gordon Ramsay (of course), and Nicole Byer from Nailed It, because she's hilarious.
But, Dan Levy as a cooking competition host is a genre of television I didn't know I needed until I saw it.
Levy has such good chemistry with the camera. His presence pulls you in from the moment you see him because he's just so naturally funny. We could see that clearly with his time in the Schitt's Creek cast. However, him as a host is even better, because we really get to see his natural ability as not only a comedian, but a judge of character.
He talks to every contestant one on one and is unashamedly himself, and that's something I can get behind in a host. If it weren't for him, I wouldn't have checked out this show in the first place, so he deserves all the praise.
The Other Judges Provide Some Valuable Insight – And Aren't Just Rude
Look, I'll be the first to say that sometimes, when judges on other cooking competitions are rude, it makes for some good television. I can't tell you how many times I've laughed out loud because of some of the things the judges have said on MasterChef. Sometimes, though, I don't need rudeness – I just need someone who can offer insight.
And that's what I see with the judges on The Big Brunch. Besides Levy – who is really just there to enjoy some good food – there are two other judges who help him determine who wins and who loses: Sohla El-Waylly, a chef and former editor for Bon Appetit, and Will Guidara, a James Beard award winner and a restauranteur.
They're never rude with the contestants. Sure, they most certainly give constructive criticism, but never once do I see a hint of anger or rudeness or any of that. It's refreshing to have two judges where all they really want to do is help and not be obscenely mean.
The Chemistry Between Not Only The Contestants, But The Judges, Is Infectious
I think what draws a lot of people into cooking competition shows sometimes is the reality aspect. While most aren't like that – such as Bake Squad or even MasterChef, there are others that feature the reality aspect of contestants actively pushing against one another and talking crap about each other – such as the craziest moments in Hell's Kitchen, or maybe even the latest hit on Netflix, Pressure Cooker.
However, The Big Brunch shows the real side of these cooking competitions. It demonstrates actual competitors, rather than roommates who are actively going against one another to take the other down. Everyone that comes to this competition is full of hope and they help each other succeed rather than push each other back.
Even from the first episode, the other contestants help each other out with bringing their dishes up to the table to be judged, giving them the right kind of tools to use – it's all love, and you see that instantly.
Even the judges are great with each other. Sometimes it feels like judges are just there to get a paycheck, barely speaking to each other at all, but it honestly felt like Levy and his co-judges were friends out for a nice little brunch in the middle of the day. It made it so much more entertaining.
The Prize Is One Of The Best I've Seen
This is almost a little superficial of me to say, but the prize money in this show is crazy.
I'm pretty sure this is the first time I've seen a cooking competition show give a cash prize of $300,000. On other shows you might get a restaurant that comes with your monetary prize, or the chance to publish a cookbook, but the actual cash itself is so much money, and I can't recall another show that has done that.
And truly, you can do a lot with that money. In other cooking shows, I've seen lower prizes like $10,000 and in reality, while winning that is great, there isn't a lot you can do with that long term in the restaurant industry since running a restaurant is so expensive. This is such a generous prize.
It Really Digs Deep Into The Roots Of The Competitors
There have been few reality cooking shows in the past where I have truly remembered people's names. Half the time I just watch the actual cooking, but sometimes I remember certain personalities, such as Mary-Lou from Season 19 of Hell's Kitchen, or Nick DiGiovanni from Season 10 of MasterChef.
However, The Big Brunch really goes out of its way to make you care about every single person you are watching. It gives the time for each person to share their story and really dig deep into who they are as a person outside of cooking, and why they need this prize money so badly.
Not only that, but it really gives you insight into their background and how it influences their cooking, whether that be a certain culture or a specific neighborhood – it's delightful to see.
It's Not Edited Like Most Cooking Competition Shows Are
My favorite part about The Big Brunch is that while it is a cooking competition show, it doesn't feel like one. Yes, there is judging, people get eliminated, and there is a sole winner, but at the end of the day, it feels like I'm watching friends cook, rather than contestants, and it's because of the editing.
Whoever did the editing for this series needs a raise because it made me want to continue watching it. No intense music, no ridiculous sound effects, no quick shots – just pure cooking. I loved that. While I understand the appeal behind the other editing style – as I have watched shows like that, too – it was refreshing to see something like this streaming, and I hope the style gets carried over to cable reality TV, as well. Just let people be. We don't need crazy edits.
Cooking has gotten popular over the last few years, with both cooking and baking TV shows exploding, as well as cooking YouTube channels, but sometimes, you just need something a little more laid back – and this is the answer. Check out The Big Brunch if you haven't yet.
Stream The Big Brunch on HBO Max. (opens in new tab)
Your Daily Blend of Entertainment News
Big nerd and lover of Game of Thrones/A Song of Ice and Fire. Will forever hate season eight. Superhero and horror geek. And please don't debate me on The Last of Us 2, it was amazing!