10 Food Shows To Watch Streaming If You're Trying To Cook More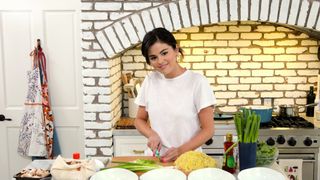 CinemaBlend participates in affiliate programs with various companies. We may earn a commission when you click on or make purchases via links.
New year, new you, right?
In the time of the new year, plenty of folks turn to new year's resolutions to try and get their life in check. Sometimes it's to lose weight, other times it's to make some more money. But a very common resolution is the ability to be able to cook more. Cooking, in itself, isn't super hard. It takes practice (as every skill does) but over time it always comes down to a science, and plenty of TV shows show that for viewers looking to learn to love cooking and improve on their technique. Not only can cooking at home save money, but it can allow us to get control of what we eat, how we eat, and how much it costs, which is what makes cooking so fun.
Cooking shows have been around practically since the invention of the TV, so much so that they have made their way onto online-based platforms like YouTube. But if you're a subscriber of Netflix, Discovery+, Hulu, etc, you're probably aware that there are no shortage of food-related shows to watch streaming. The options are endless to try, but which ones are most likely to be helpful in teaching you basic cooking techniques, or offer good food recipes or inspire you to learn to love food and the culinary arts? That's why this is the ultimate list of some of the best shows to watch if one wants to learn how to cook, starting with a newcomer to the scene.
Best Leftovers Ever!
Ever have that leftover pasta that's in the fridge that you don't want to eat but it's there so you sort of have to? Or maybe a pint of rice from one of the millions of takeout boxes that have amassed throughout the week? A solution to that is what Best Leftovers Ever! offers to viewers who watch the show. Hosted by Jackie Tohn, this show brings together cooks who are exceptionally great at cooking up the worst part of everyone's fridge clean-out – leftovers. From there, they are put in a race to see who can make the best meal and win $10,000.
While it does sound like a normal competition show, what makes this so interesting is that it really does show what one can do with leftovers, turning them into completely new meals like they were never cooked before. It's always a hassle to reheat food and sometimes it doesn't taste the same, so why not turn it into a fresh new meal? It's truly a different kind of show.
Stream it on Netflix (opens in new tab).
The Chef Show
Based on the movie Chef, this documentary series was created by Hollywood big-shot Jon Favreau, and stars alongside him Roy Choi, a famous Korean American chef who basically founded the gourmet food truck movement. Throughout this series, Jon and Roy go from place to place, coast to coast, person to person to experiment and talk about food, all different kinds. Brisket, BBQ, cakes – everything you can imagine.
The love about The Chef Show is that while it does show some very familiar faces in Hollywood, it also shows viewers how to make exactly what they are making, and the recipes (while they can sometimes be a bit more difficult than others) are interesting enough where it could make anyone want to learn how to cook. Who wouldn't want to east a brisket with Jon Favreau? And if you're looking for some appearances of some of your favorite actors/actresses – Tom Holland, Robert Downey Jr., Seth Rogen – this is the show for you.
Stream it on Netflix (opens in new tab).
Chef's Table
I love Chef's Table. It's one of the most interesting shows out there. Created by David Gelb, it is known as the first documentary series on Netflix, dating back to 2015. Each episode focuses on a different chef from around the world of a completely different food style and shows their philosophy and approach to cooking.
What makes Chef's Table so interesting is that not only does it teach multiple new recipes from around the world that are relatively simple to learn, it's the first series where you really come away feeling like you've learned something – and not just about food. The history and the culture behind some of the dishes are astounding, and truly it makes viewers want to learn more about each country that is featured, and what food means to them. It's truly a one-of-a-kind show.
Stream it on Netflix (opens in new tab).
Chopped
I couldn't do this list without mentioning Chopped, the most iconic cooking reality TV show ever. Hosted by Ted Allen and in its 47th season, Chopped is the epitome of trying to figure out what cooks can make through unusual elements, through appetizers, entrees, and desserts, all for the chance to win $10,000.
Chopped is a classic example of what can be done with cooking. Everyone always complains that they never have anything in their fridge to use to make something but Chopped shows that no matter what, anything can be made from anything. Cooking may be difficult at first but it can be done super simply. That's the beauty of it. Granted these are professional chefs, but the principle is still there.
Stream it on Hulu (opens in new tab).
Good Eats
Good Eats is so much fun and honestly, one of the most informative cooking shows out there. Alton Brown, one of the most famous chefs in the world, created this show and hosted it, for years and still does. From the creators of Bill Nye, The Science Guy, and Mr. Wizard, Good Eats is all about studying the science and technique of food, along with the cooking that comes with it. He also covers all paces of cooking in general, talking about the different kinds of equipment that can be used, and the advantages to do so with it.
Good Eats, having been around for 15 seasons due to a revival in the 2010s, has been popular among fresh cooks because not only does it teach the amateur cooks simple recipes, it really gets into the meat behind cooking, why things react the way they do, and everything else behind it. For people who want to get invested in food, this is the way to go.
Stream it on Discovery+ (opens in new tab).
The Great British Baking Show
While this show is about baking, it doesn't change the fact that it's still a part of the kitchen experience. The Great British Baking Show has been around for years now and continues to be a hit on Netflix as each series comes out. This is a baking competition show where they pick out amateur bakers and put their skills to the test with ingredients they are given, and from there a winner is crowned. But what makes this show so great is that it's so personable.
I've always loved watching the amateurs bake and try to win these challenges because truly, we are all starting out as amateurs at some point. These people just show how easy it is to somehow make something out of nothing – and occasionally, it's okay to completely fail too. That's part of learning.
Stream it on Netflix (opens in new tab).
Magnolia Table
Joanna Gaines is a goddess among women for her home and cooking skills, and it was only a matter of time before the Magnolia Network to make its way to Discovery+. Joanna Gaines is known for her show "Fixer Upper" with her husband, but since that has ended she has been stepping out in the cooking scene with multiple cookbooks, and now that has translated to a new show that she leads, with her simple recipes.
She's known to have fairly easy recipes to handle and Joanna is one of the most personable hosts you could ever meet – and occasionally, you might even get to see her adorable husband, Chip. But let's be honest, we're really here for the cooking, and she offers a great way to learn how to cook basic recipes that will not only impress your friends but yourself too.
Stream it on Discovery+ (opens in new tab).
Selena And Chef
Admittedly, when I first heard about this show I didn't think it was going to be super good and assumed it would be just another celebrity cash-grab – but Selena and Chef is actually a lot of fun and really worth the watch on HBO Max. The premise of the show is Selena Gomez is live from her kitchen, getting advice from famous chefs from around the world, who teach her the recipes from a stream on her TV. The hijinks ensue as this beginner chef tries to keep up with them.
You wouldn't expect it considering Selena is known for acting and singing as well as being a sweet girl, but that's what really makes this show stand out. She laughs at her mistakes but keeps going, having her family as backup. And what makes it even better is that the chefs spell out and talk about the recipe the whole time, so it's super easy to follow for a new cook. It's really worth the watch.
Stream it on HBO Max (opens in new tab).
The Pioneer Woman
Think of some of the most delicious foods you can think of – meals with sauce, potatoes, carbs – that's exactly what the Pioneer Woman teaches, hosted by Ree Drummond. On her show, she breaks down simple recipes of some of the best country takes on food you will ever see. Think hearty soups, super-rich desserts, and creamy, cheesy pasta. My stomach is already rumbling thinking about it.
A big reason I lean towards The Pioneer Woman is that for beginner chefs, her recipes are definitely a bit easier to adapt to because they're meals that anyone can make but with a special twist, some flavor, and a little bit of spice. Pioneer Woman is one of the best ways to start out cooking and then expand on your palette from there.
Stream it on Discovery+ (opens in new tab).
Guy's Big Bite
Guy Fieri is one of the kings of cooking TV and it's for a reason. Guy's Big Bite is a show that easily shows how simple it can be to cook from your backyard, hosted by the man himself. And since it's been around since 2006, it's clear that the show has a very good following and has some staying power.
He shows off multiple different recipes, from different kinds of french-fries to French toast to Stromboli – he's really a jack of all trades and makes some of the best foods, all while explaining how to do it to the viewer. Talk about super simple. Just be careful not to eat too much of his delicious food, or else you'll be paying for it.
Stream it on Discovery+ (opens in new tab).
Which recipes do you want to learn? Whatever the case, surely one of these shows will have some recipes for you to follow. It's up to you to watch and find out.
Big nerd and lover of Game of Thrones/A Song of Ice and Fire. Will forever hate season eight. Superhero and horror geek. And please don't debate me on The Last of Us 2, it was amazing!
Your Daily Blend of Entertainment News
Thank you for signing up to CinemaBlend. You will receive a verification email shortly.
There was a problem. Please refresh the page and try again.